Roasted Jalapeno Popper Dip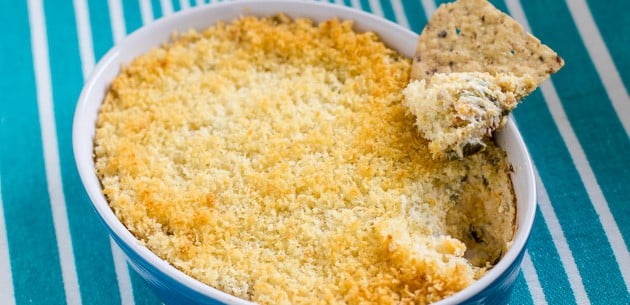 Jalapeno poppers are a wonderful thing. They are one of my favorite party foods. I make them whenever there is a significant sporting event. I will even look for reasons to make jalapeno poppers. It doesn't even have to be a big game on the tube – any mildly significant event is reason enough to make a batch of 'poppers'.
The library books are due? Let's make poppers!
The leaves are changing colors? Let's make poppers!
The batteries died in the remote? Let's make poppers!
I have many different recipes for poppers that I have put on this site, so you can see how much I love them. Check out the recipes, as they are all awesome and will satisfy any popper craving you may have!
Chorizo Stuffed Jalapeno Poppers
Atomic Buffalo Turd Jalapeno Poppers
Crawfish and Cheddar Stuffed Jalapeno Poppers
Bacon Cheddar Jalapeno Poppers
Today we are going to take everything that is great about the jalapeno popper and turn it into a dip! Yes, I know, this is very exciting. I roasted the jalapeno peppers before mixing them with the rest of the ingredients. It is similar to how you can roast red peppers in the oven. The instructions for how to roast jalapeno peppers in the oven can be found here. The jalapeno peppers come out of the oven with a wonderful sweet heat and there is no worry about them being raw and crispy in this dip.
This dip is creamy and delicious. It is great served with crackers or tortilla chips. It is also amazing with fresh cut veggies like peppers, celery, carrots and more!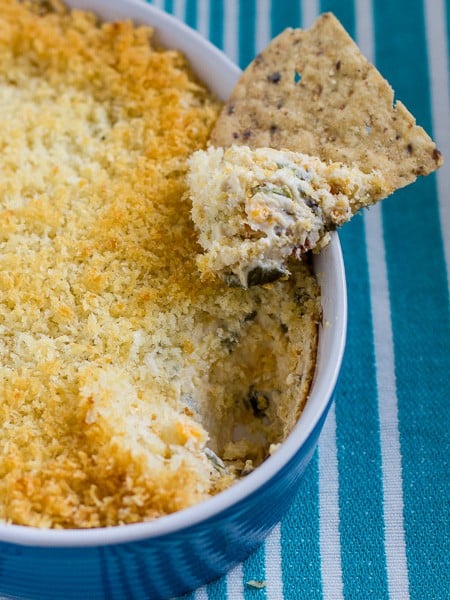 Roasted Jalapeno Popper Dip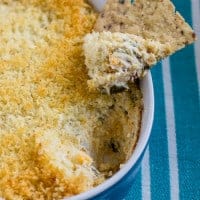 Print
Servings: 4
Ingredients
6 roasted jalapeno peppers , diced
1 (8oz) brick cream cheese, softened
1/2 cup mayonnaise
3/4 cup grated cheddar cheese
1/4 cup parmesan cheese
1/2 tsp garlic powder
1/2 tsp salt
1 tbsp hot sauce (ie: Tabasco, Red Hot, etc.)
2 tbsp butter
1/3 cup panko
Instructions
Prepare the roasted jalapenos by following the instructions

here

.

In a large bowl, use a fork to cream together the cream cheese, mayo, cheddar cheese, parmesan, garlic powder, salt and hot sauce.

Mix in the diced roasted jalapeno peppers.

Spread evenly in a small baking dish.

Melt the butter and mix with the panko until the melted butter is fully absorbed. Sprinkle the buttery panko on top of the cheese mixture.

Preheat oven to 350F. Bake for about 20 minutes or until the cheese is creamy and the panko is just starting to brown.

Serve warm with crackers, tortilla chips or fresh cut veggies.