Baking bread has never been easier! The dough can be made in a matter of minutes and thrown in the oven. The outside crust is crumbly and delicious and the inside is moist and buttery. So good!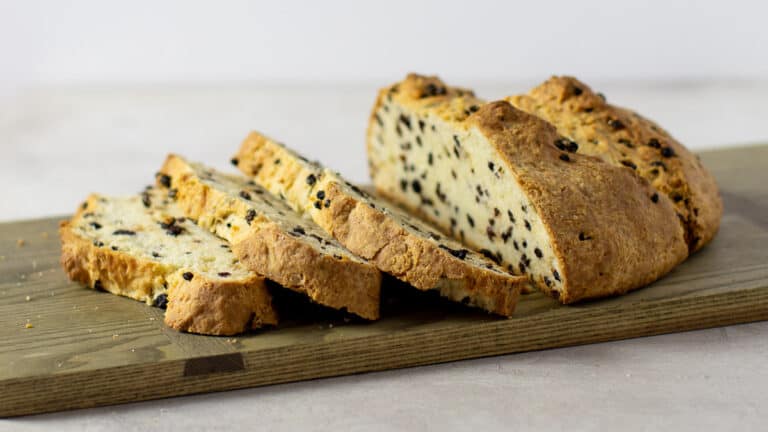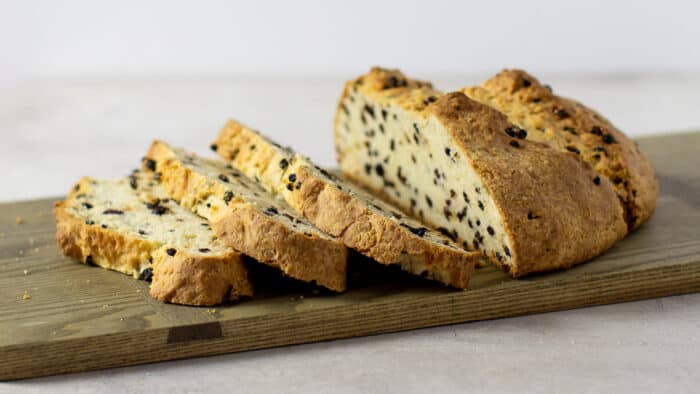 I love to bake bread including everything from artisan style bread, to sandwich loaves, biscuits and scones. This Irish soda bread is one of the quickest and easiest loaves to bake. It is perfect for a weeknight dinner and great alongside soup or stew.
Soda bread is amazing because it is so quick to mix together and it does not require any yeast or rising/proofing time. The combination of baking soda with buttermilk act as the leavening agent to cause the bread to rise during baking.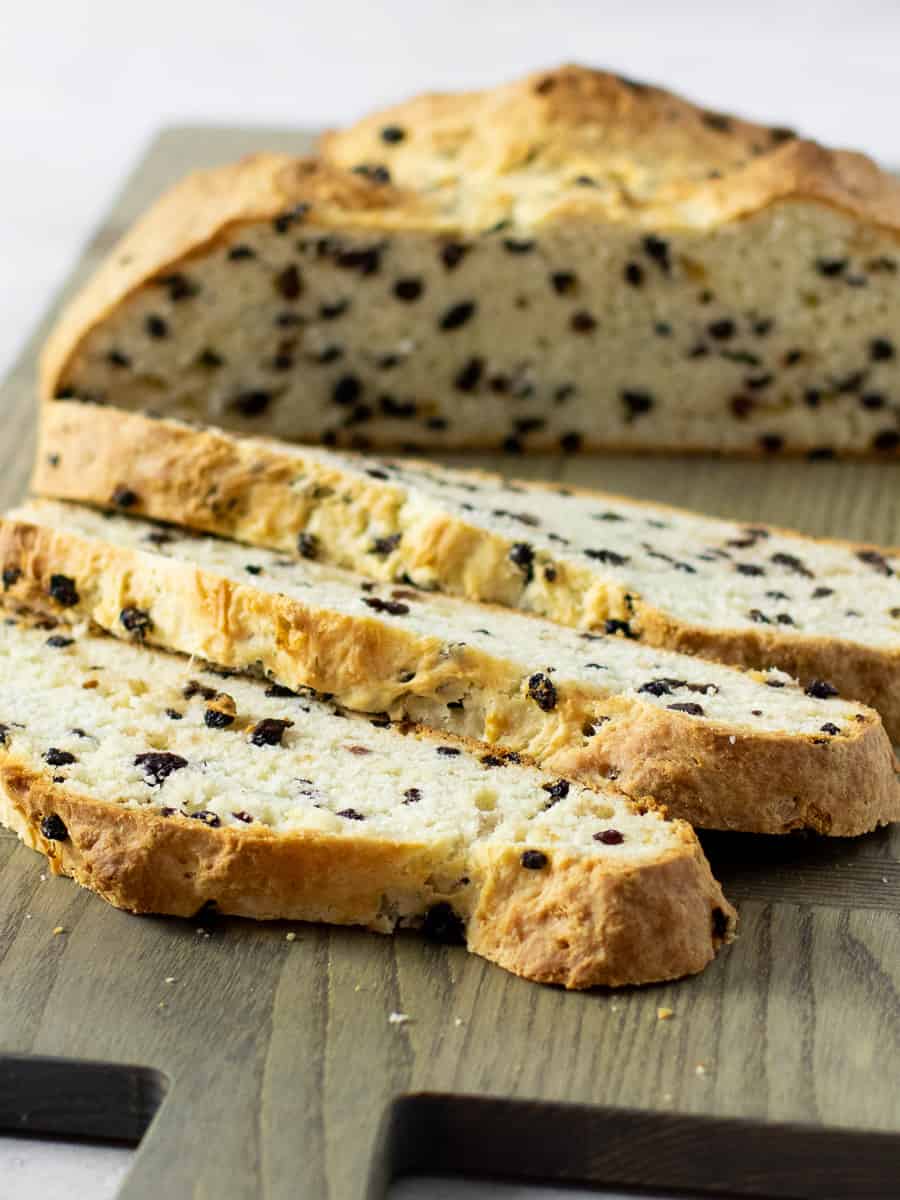 This recipe is not the traditional 4 ingredient soda bread. Classically, this bread is made only with flour, salt, baking soda and buttermilk. While it is great that way, I like to add some butter and a little bit of sugar. This creates a soda bread that is in between, a bread and a scone, in texture and flavour. I also love to mix in some currants because, well, I look for any opportunity to add dried fruit to a recipe.
Ingredients You Will Need
Flour
Sugar
Salt
Baking Soda
Butter
Buttermilk
Currants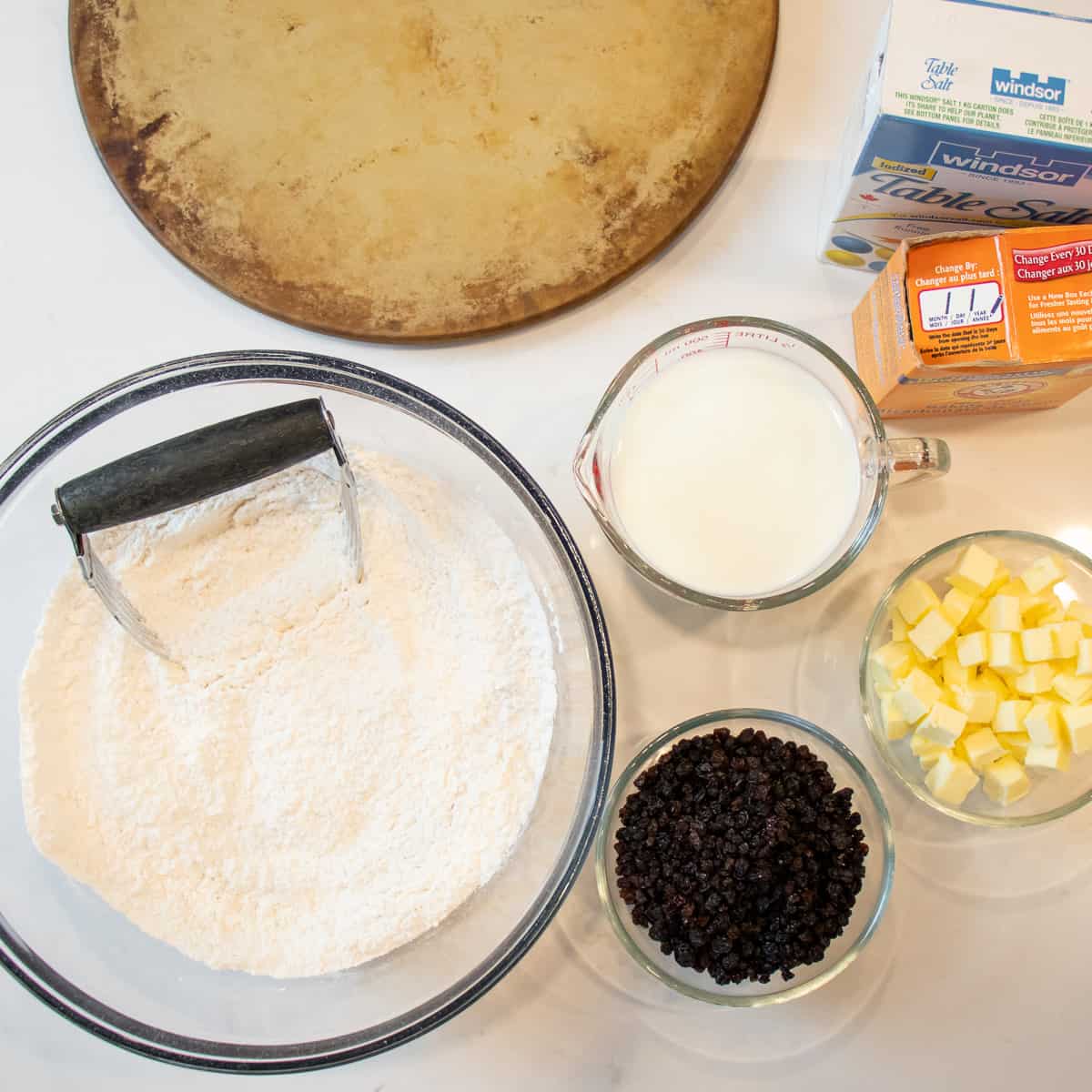 Get Everything Measured
I like to make sure that all the ingredients are out and pre-measured. Making the dough for soda bread is very quick, so it is best to do the measuring first.
With regards to the butter, I cut it into small little cubes and place them in the fridge so that they are cold when 'cut' into the flour.
Whisk the flour, sugar, salt and baking soda in a large bowl.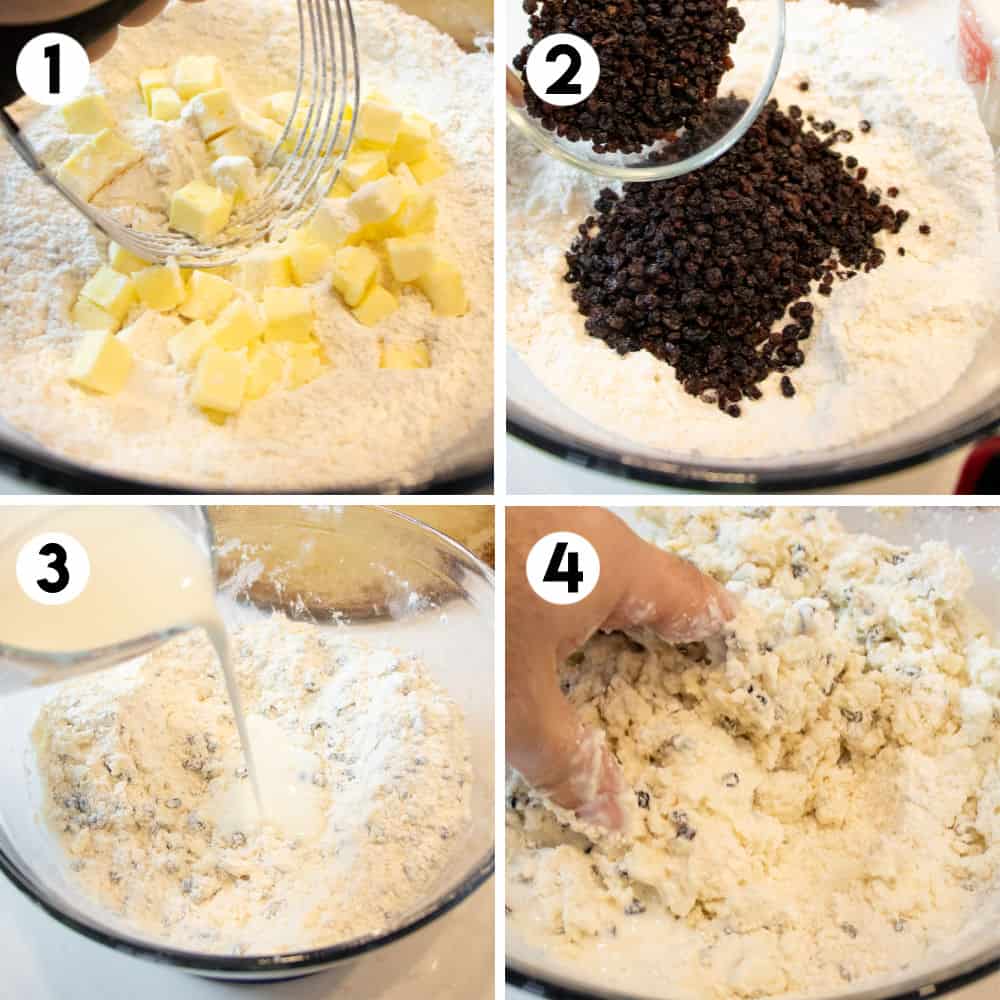 How to Make the Dough?
Once the dry ingredients have been mixed together in a large bowl, it is time to cut in the cold butter. Use a pastry cutter or a couple of knives to break up the butter into small little bits. Cut the butter, until the flour looks and resembles a coarse meal or crumb.
Stir in the currants. This is an optional ingredient and this bread is just as delicious without the currants. Other dried fruits, orange/lemon zest and herbs can be added to enhance the flavour of the bread.
Make a well in the middle of the flour mixture and pour in the cold buttermilk.
Use your hand, a rubber spatula, or a wooden spoon to mix the buttermilk into the dry ingredients. Be careful not to over-mix, but, you do want to make sure there are no dry pockets of flour.
Expert Tip! Ensure that the butter is cold when it is cut into the flour. This will ensure that little bits of butter and all through the dough. This will help the soda bread have a nice and light texture.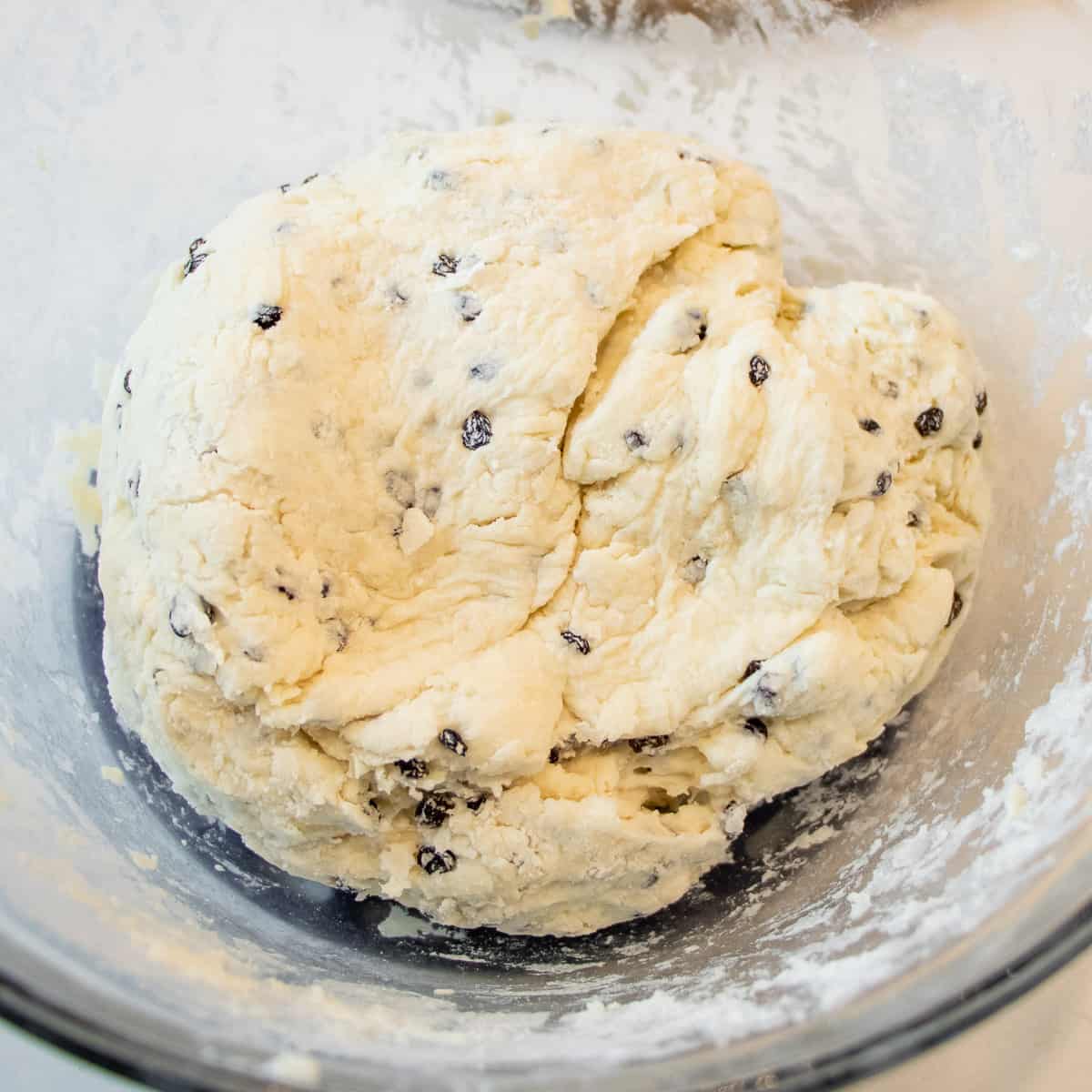 Time to Knead Gently
This Irish soda bread only needs a very light kneading, which is different than a traditional yeast based bread. I knead it right in the bowl, so that I do not need to dirty up another surface.
Use your hands to gently knead this dough. It will be fairly wet and tacky. That is okay. If you find that it seems too wet and constantly sticking to your hands, you could add a little extra flour and work it into the dough.
Expert Tip! If you prefer not to use your hands, a wooden spoon or rubber spatula will also work. Just keep gently stirring until it all comes together.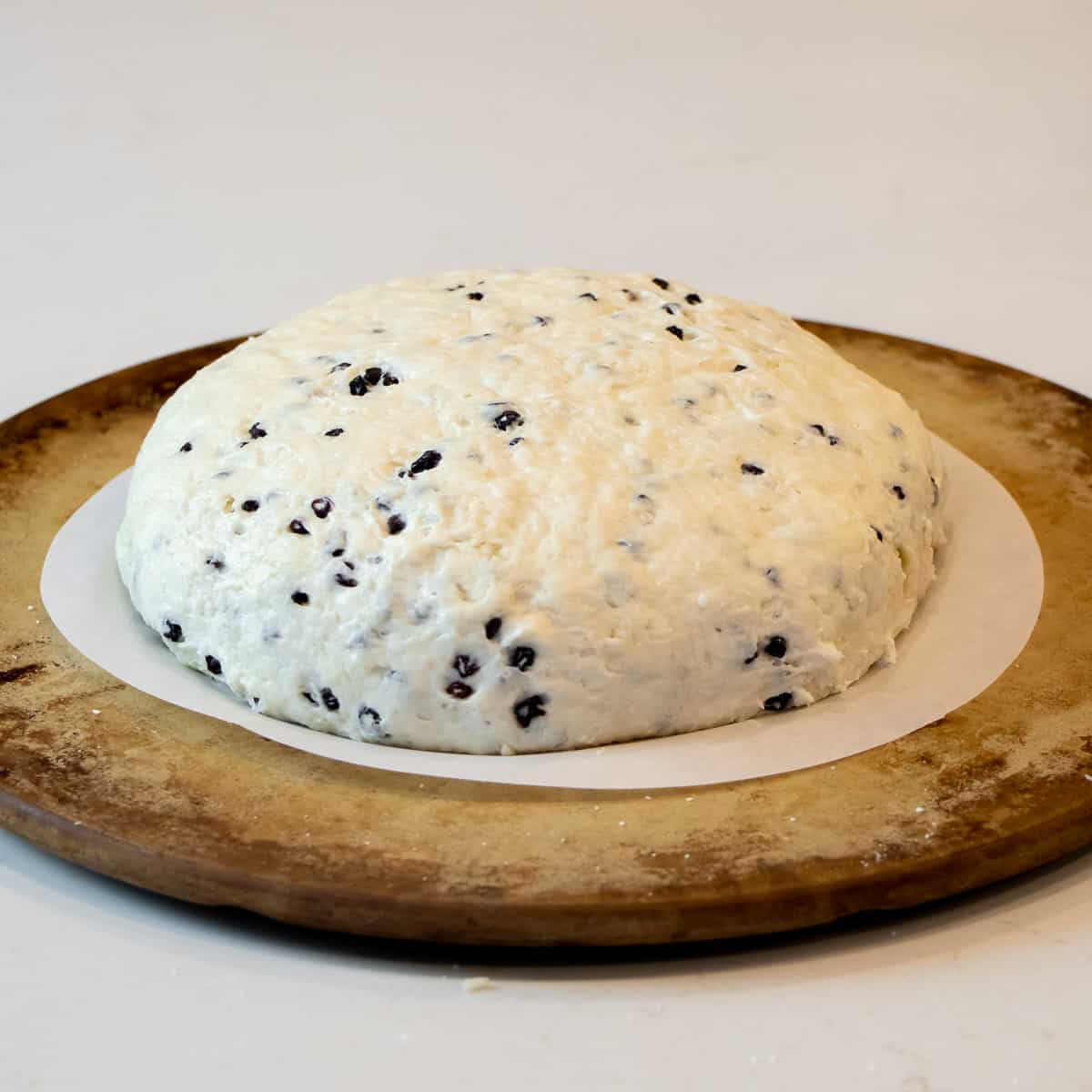 Once the kneading is done, place the dough onto a pizza stone or baking sheet. I like to line it with a sheet of parchment paper so that the bread does not stick to the baking surface. Form the dough into a round loaf that is about 7 inches in diameter.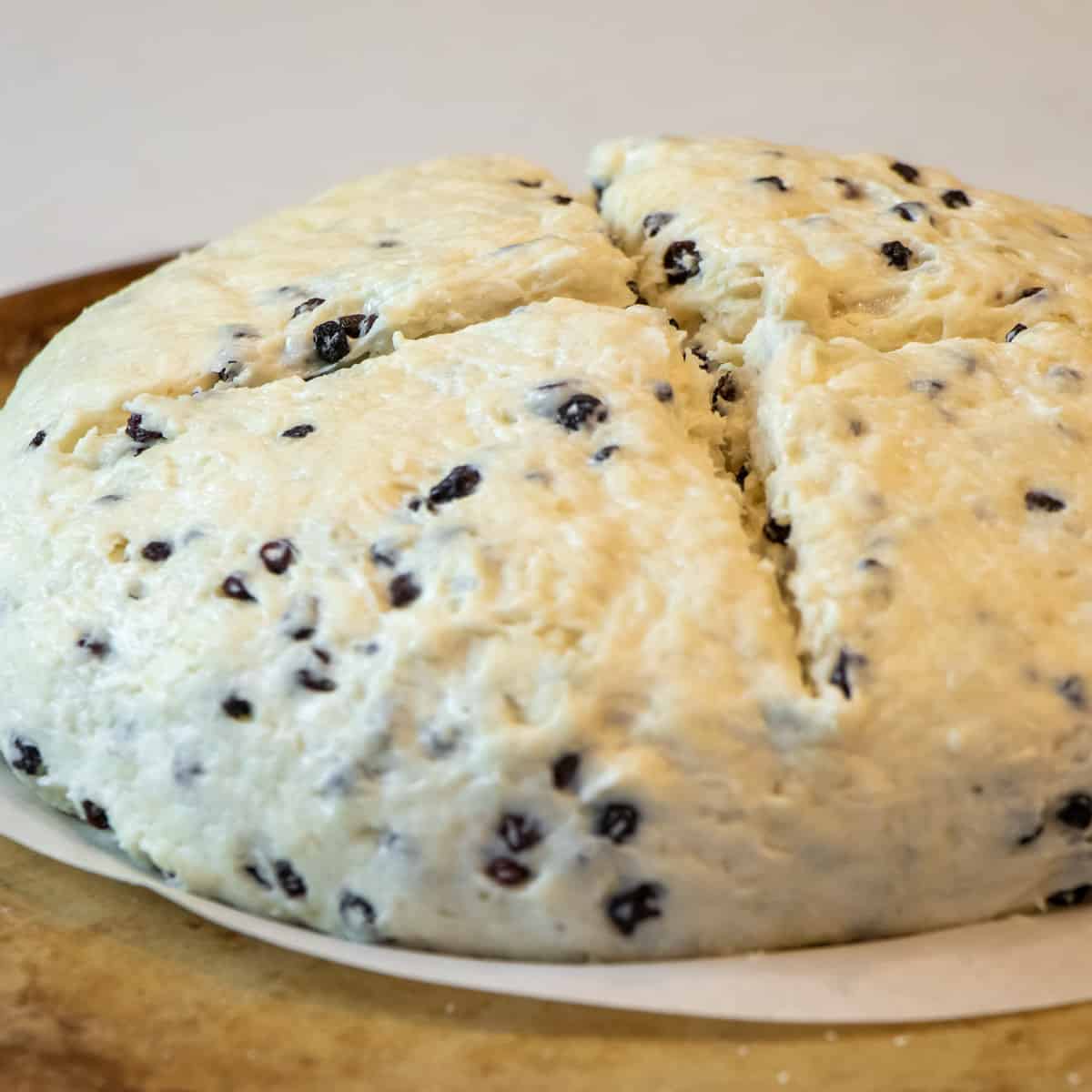 Score the Top!
Before the Irish soda bread goes in the oven, it is important to cut the top of the bread. Use a sharp knife to slice into the top of the bread, marking an X. Make sure the cut is deeper than you might think. I try to have the cross about 1/2 inch deep.
This slit helps the bread rise and bake evenly and prevents it from cracking.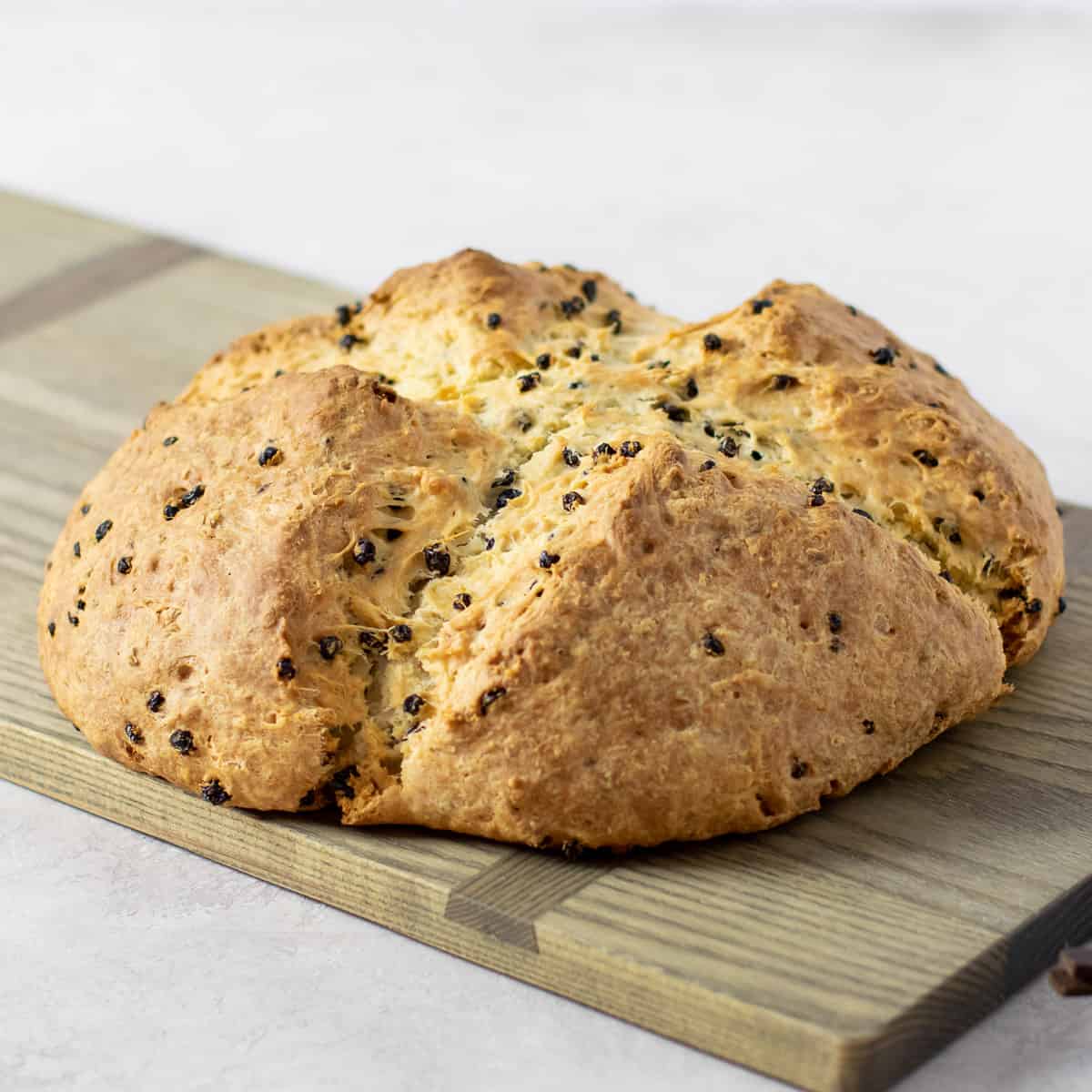 How Long to Bake Irish Soda Bread?
I bake the soda bread in a 375F oven for about 55-60 minutes. The bread will rise and puff slightly during baking and the outside will brown up to develop a craggy crust. It looks rustic and delicious.
Cool the bread completely before slicing. This bread it great just as it is, but I also love to spread a slice with some butter or honey.
Expert Tip! I use a digital thermometer to test the doneness for bread. Stick it into the centre of the bread and if it reads 180F, then the bread is done. Take the loaf out of the oven and place it on a cooling rack.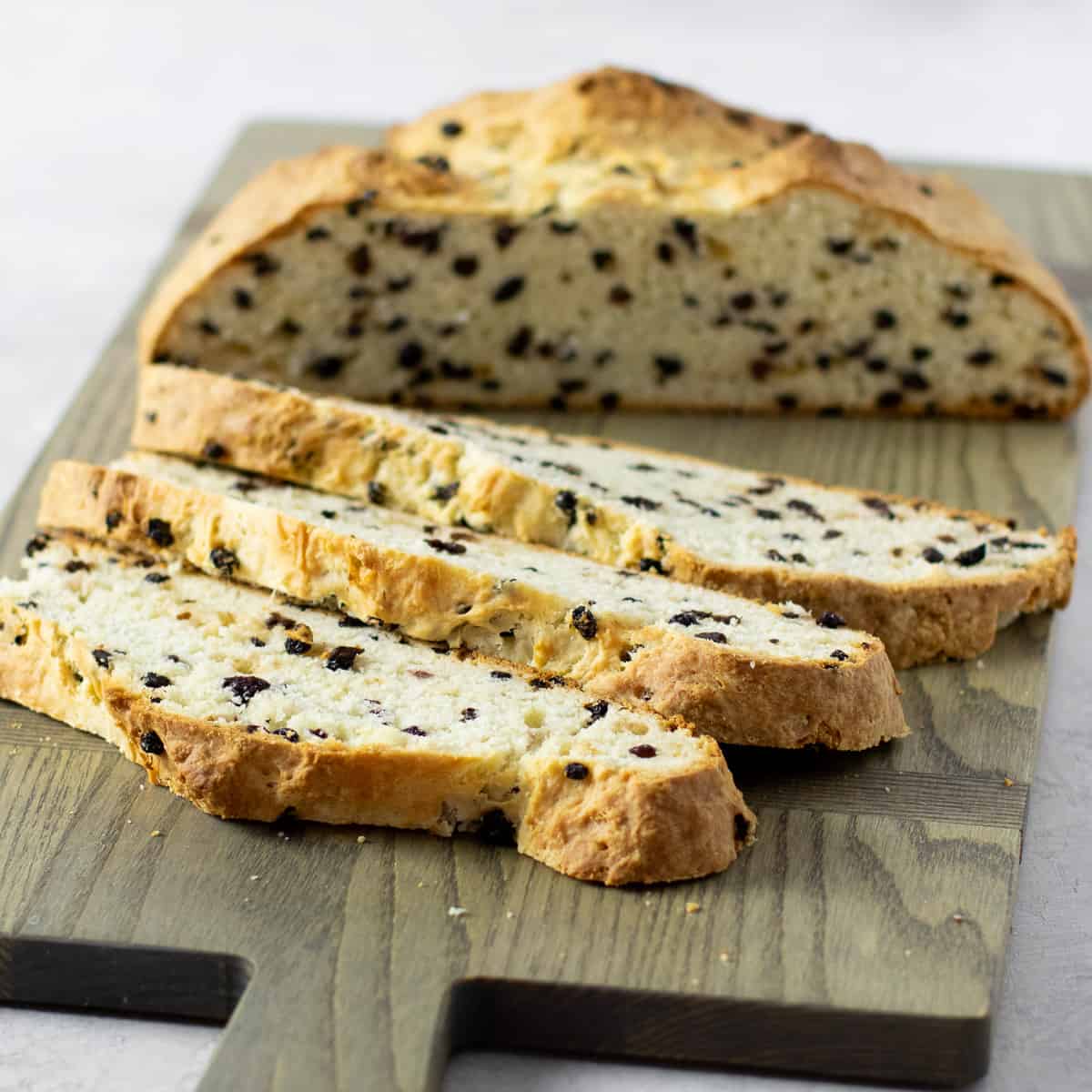 Other Irish Inspired Recipes!
This Irish soda bread is a great way to celebrate March 17th. Here are some other fun and delicious recipes for St. Patrick's Day.
Irish Soda Bread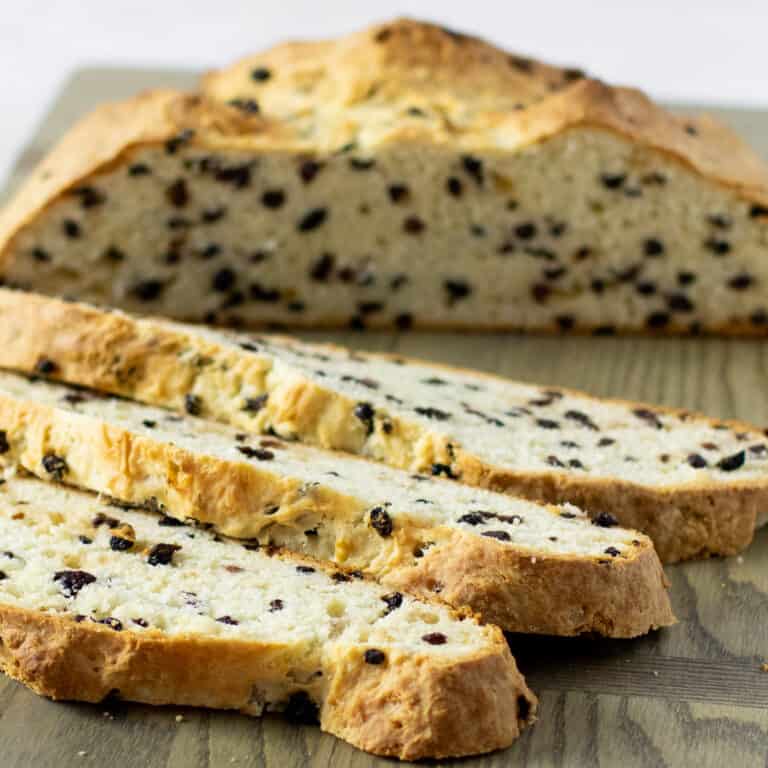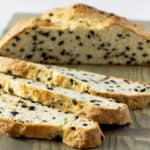 Print
Simple recipe for how to make Irish soda bread with currants. Classic bread with no yeast needed, since baking soda and buttermilk are used for the rising.
Servings: 8
Ingredients
3 1/2 cups flour
1/4 cup sugar
1 tsp baking soda
1 tsp salt
1/2 cup cold butter , cut into small cubes
1 2/3 cup buttermilk
1 cup currants , optional
Instructions
Preheat the oven to 375F.

In a bowl, whisk together the flour, sugar, baking soda and salt.

Add the cold butter to the bowl and using a pastry blender, cut the butter into the flour. Continue until a crumbly consistency is produced. Stir in the currants.

Pour the buttermilk into the flour mixture and stir together with your hands, or with a rubber spatula, until combined. Work the dough gently, giving it a very light 'knead', and be careful to not over-mix the dough.

Form the dough into a 7 inch round loaf and place on a pizza stone or baking sheet, lined with parchment paper.

Cut a cross (X mark) on the top of the dough. The slit should be about 1/2 inch deep into the loaf.

Bake for 55-60 minutes.

Let the bread cool completely before slicing.
Nutrition
Per serving:
Calories: 407kcalCarbohydrates: 64gProtein: 8gFat: 14gSaturated Fat: 8gCholesterol: 36mgSodium: 584mgFiber: 3gSugar: 21g
Other Bread and Biscuit Recipes!
I am a huge fan of fresh baked good and there are a number of recipes on my site. Here are some of my favourites.