Roasted Red Pepper Cheese Ball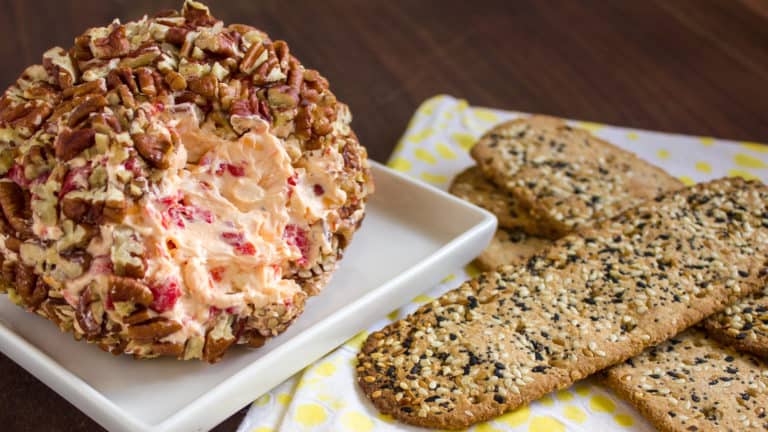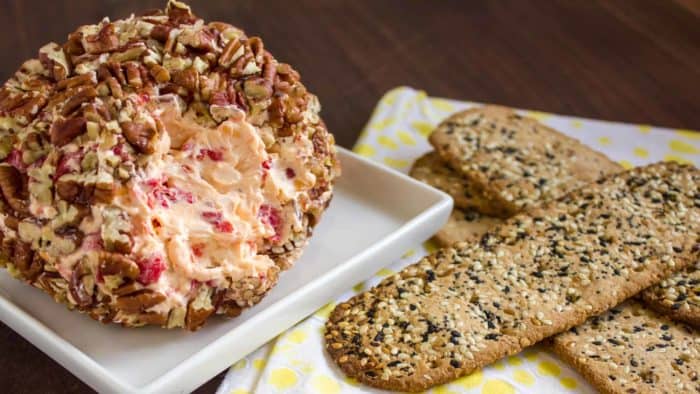 When I was a kid, I remember my mom used to make cheese balls as an appetizer. They were so tasty and usually served whenever guests came over during the holidays.
One of my favourite things about these cheese balls was that she rolled them in chopped pecans. Not only did it help them hold their shape and look cool, but the nutty flavour added to the cheese spread, well it just worked!
Cheese balls are an excellent appetizer to serve at a party or holiday gathering. They can be made ahead and stored in the fridge. Then, when you are ready to serve them, place it on a plate with a small spreading knife and some crackers, melba toast or pita chips.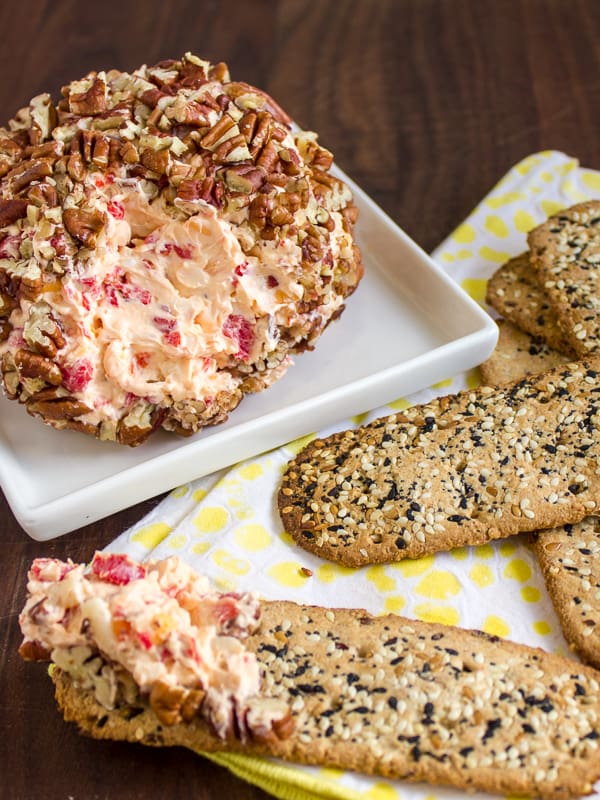 Cheese balls are quite versatile. Along with cream cheese and grated cheese, there are typically other ingredients that give the flavour profile to the spreadable cheese. For this recipe, roasted red peppers and shallots are mixed with the cheese which gives the spread a wonderful flavour.
Personally, I love roasted red pepper and I use it in many different recipes. In particular, roasted red pepper works very well with cream cheese. The sweet peppery taste blends with the cheese to make every bite memorable. The minced shallots are added for some zip.
To make the cheese ball, all the ingredients for the cheese spread are blended together and then shaped into a ball. Then, roll the cheese ball in chopped pecans. That is it. Wrap it in plastic wrap and place in the fridge to chill.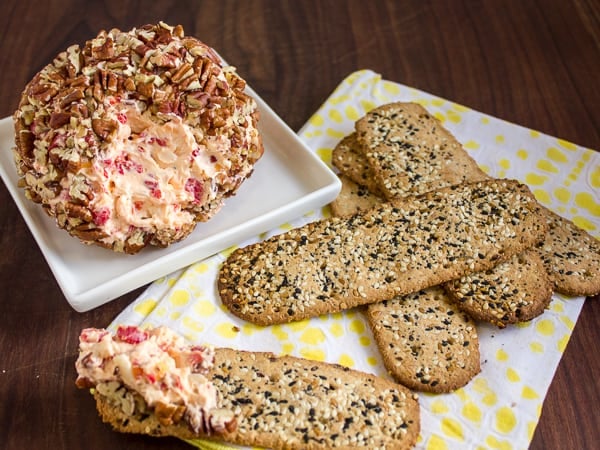 Cheese is typically on the menu for most parties or gatherings that have appetizers. Whether it is sliced cheese, baked brie, warm cheese dip or a spread, cheese is always popular. Over the years, I have made many different types of appetizers or snacks made with cheese.
Here are some other great cheese appetizer recipes: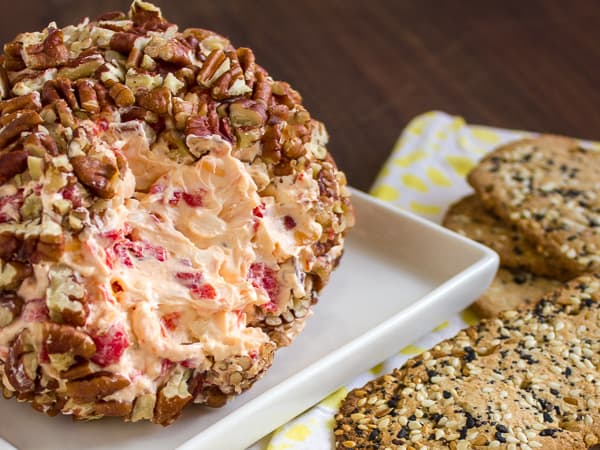 If you are wanting to make some changes to this cheese ball, there are definitely some things you can do. Check out some of these variations!
Instead of roasted red peppers, you could use roasted jalapeño peppers. Along with adding some heat, this will taste similar to a jalapeño popper. Check out my recipe for how to roast jalapeño peppers here: How to Roast a Jalapeno Pepper in the Oven
Instead of pecans, you could use a different type of nut, or even roll the cheese ball in crumbled bacon! Everything is better with bacon.
Roasted Red Pepper Cheese Ball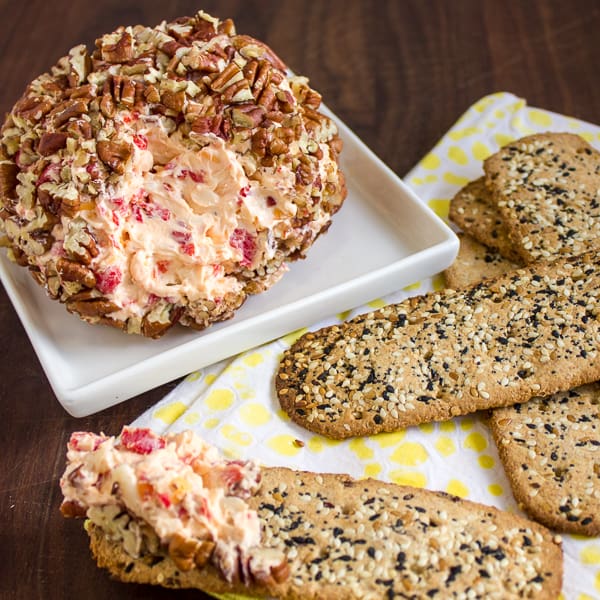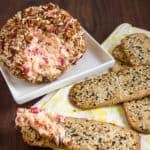 Print
This cheese ball is the perfect appetizer! Cream cheese, cheddar cheese, roasted red peppers and the cheese ball is rolled in pecans. Spread on crackers or melba toast.
Servings: 8 people
Ingredients
8 oz cream cheese
2/3 cup roasted red pepper , minced
2 shallots , minced
1/4 tsp salt
1/4 tsp garlic powder
1 cup grated cheddar cheese
2/3 cup chopped pecan pieces
Instructions
In a medium sized bowl, mash the cream cheese with a fork or potato masher. Add the roasted red pepper, shallots, salt, garlic powder and grated cheddar and continue to mash until well incorporated. The peppers can still be chunky, but try to ensure that they are well mixed with the cheese.

Form the cheese into a round ball and roll in the pecan pieces until the mall is evenly coated in the pecans.

Wrap with plastic wrap, keeping the round shape and place in the fridge to firm up, about 30-60 minutes.

Serve with crackers.
Nutrition
Per serving:
Calories: 223kcalCarbohydrates: 4gProtein: 6gFat: 20gSaturated Fat: 9gCholesterol: 46mgSodium: 411mgFiber: 1gSugar: 1g