Smoked Baked Beans in a Cast Iron Skillet
These baked beans have a nice smoky flavour and perfect for your next BBQ. These beans go great with ribs, chicken, pulled pork and so much more!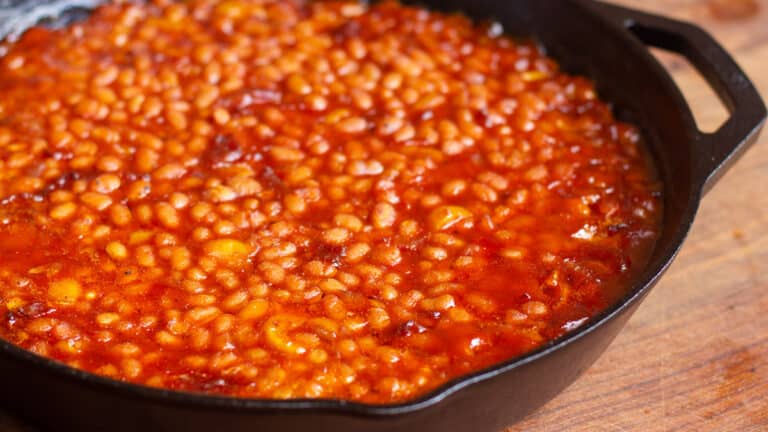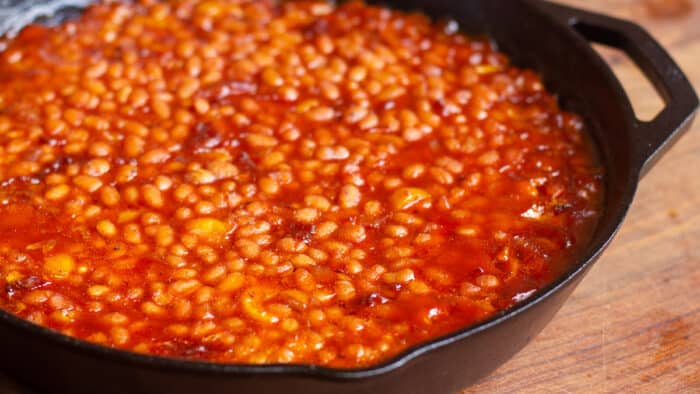 This week I was smoking 3 chickens and I had some room on the upper rack above the chickens and debated what to throw up there. There is a philosophy I use when smoking – if there is an empty rack, you need to fill it with something. I figure that if I am using the wood, I might as well fill my smoker up to make the most of it!
Smoking baked beans is just incredible. The sweet smoky flavour is so amazing and beans go really well with smoked meat like chicken, ribs and more. So, since that upper rack is shallow without a lot of room between it and the top of the smoker, I figured the best way to put the beans up there was to use my cast iron skillet.
Wow – this turned out to be an amazing discovery for me and will quite likely be my new method for smoking baked beans.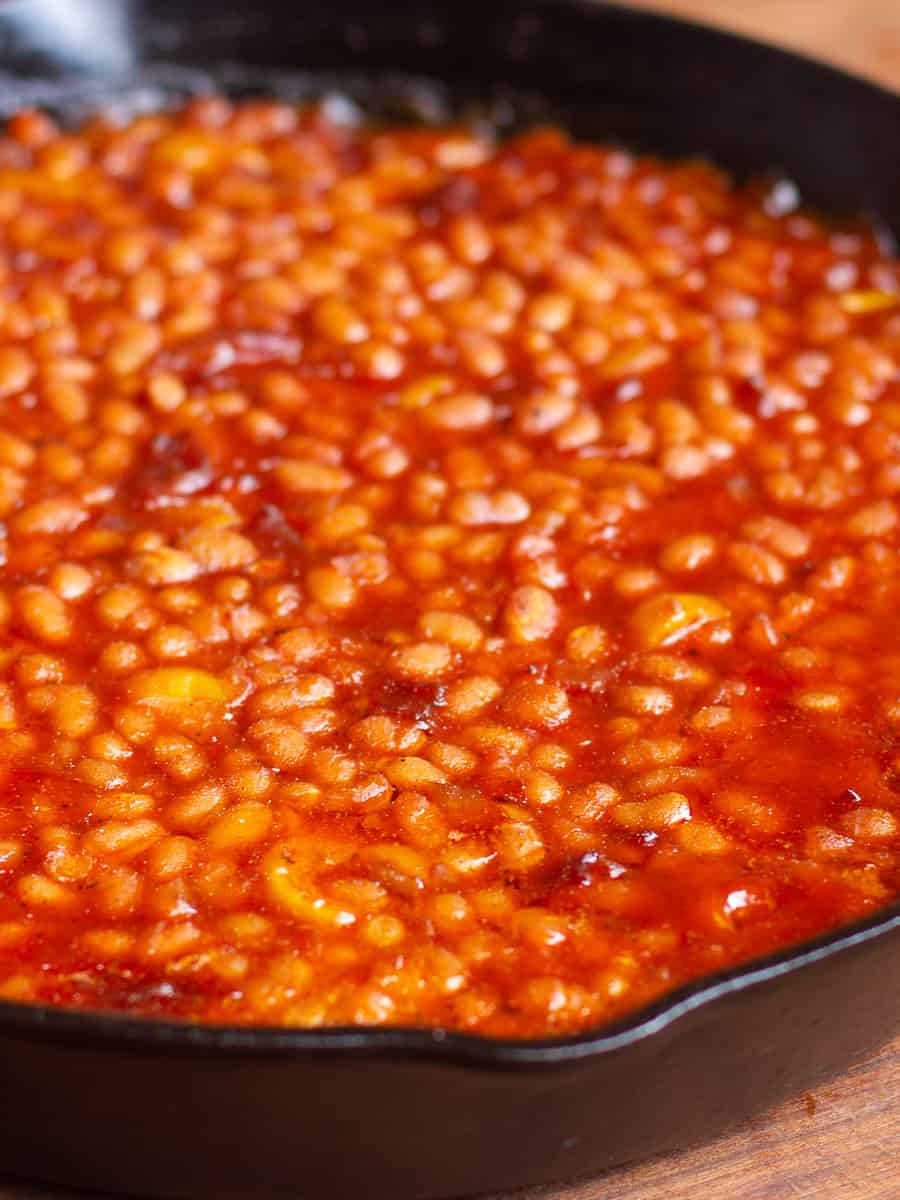 I have always been selective regarding what dishes I use to smoke stuff in the smoker. The smoke can discolour the dish and I have proven that with a couple of white baking dishes that are quite yellowy now from all the smoke.
The great thing about a cast iron skillet is that it is basically indestructible and will not be discoloured or negatively impacted by being in the smoker. On top of that, I love that I can fry the bacon, onion and pepper in the skillet on the kitchen stovetop. Then throw the rest of the ingredients in the skillet, mix it all up and it can go straight into the smoker. No need to dirty other dishes.
I love that! On top of that, the cast iron skillet can go right to the table. It looks great served just like this! It goes from the stovetop, to the smoker, to the table.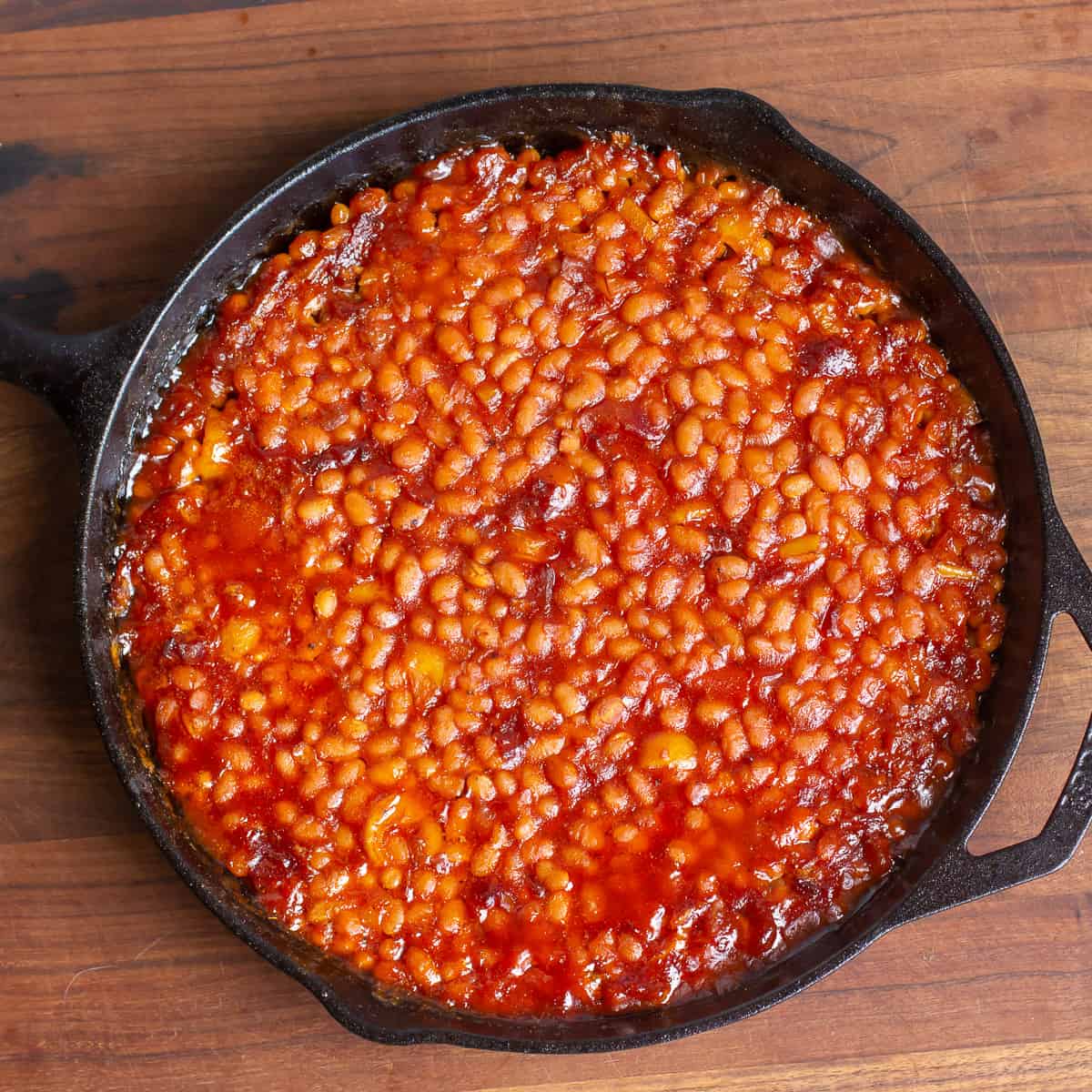 These smoked baked beans are the ultimate side dish. They are so addictive that they could almost be a complete meal by themselves. But, if you are like me, a plate of BBQ is filled with lots of stuff! Here are a handful of my favourite recipes that go very well alongside a side of beans: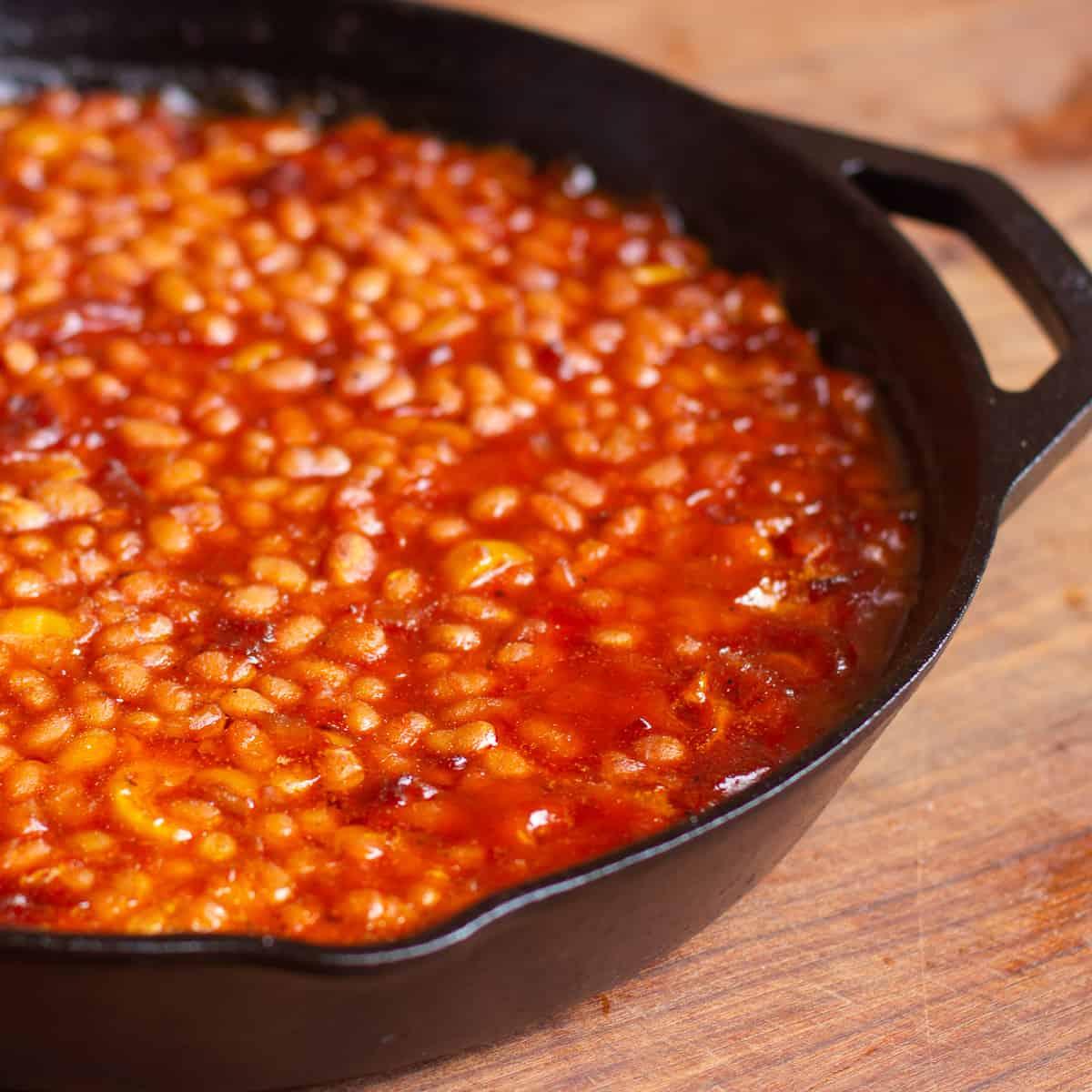 Smoked Baked Beans in a Cast Iron Skillet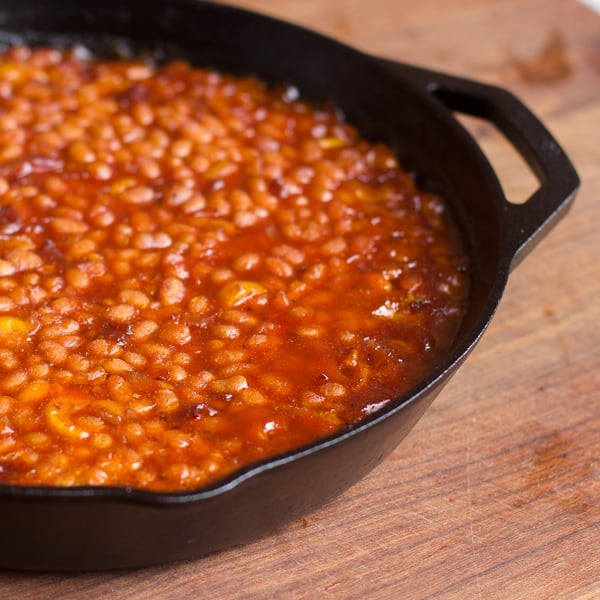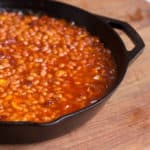 Print
Easy recipe for making baked beans in a smoker with a cast iron skillet. Bacon, beans, onions and pepper with a lots of a nice sweet bbq type sauce.
Servings: 8
Ingredients
5 bacon strips , cut into small pieces
1 onion , minced
1 sweet pepper (yellow, red or orange) , cored and diced
3 cans navy beans (19oz/540ml cans) , rinsed and drained
2 cups ketchup
3/4 cup bbq sauce
2 tbsp prepared mustard
1 cup brown sugar
1/4 cup molasses
2 tbsp worcestershire sauce
2 tbsp hot sauce
1 tsp salt
1 tbsp chili powder
1/2 tsp black pepper
Instructions
Fry bacon in a cast iron skillet on stovetop over medium heat. Stir the bacon around regularly to prevent burning.

Once the bacon is starting to brown, stir in the minced onion and pepper. Saute for a few minutes, or until the onion goes transparent. Remove from heat.

Add the drained navy beans and the remaining ingredients to the cast iron skillet. Stir very well to ensure that everything is well mixed and coated in the sauce.

Set smoker to 250F using wood chips of choice (cherry, apple, hickory and maple all work excellent for these beans).

Place the cast iron skillet full of beans in the smoker and smoke for 2 1/2 hours. Serve.
Nutrition
Per serving:
Calories: 553kcalCarbohydrates: 107gProtein: 19gFat: 7gSaturated Fat: 2gCholesterol: 9mgSodium: 2305mgFiber: 12gSugar: 59g