Baked Buffalo Chicken Nuggets
These healthy homemade chicken nuggets are made from diced chunks of chicken breast meat and baked with a buffalo seasoned breading. They are so good and perfect alongside some ranch dressing for a dip.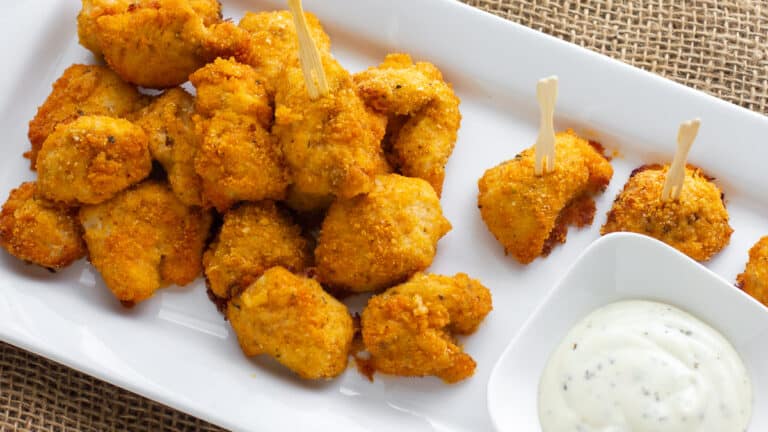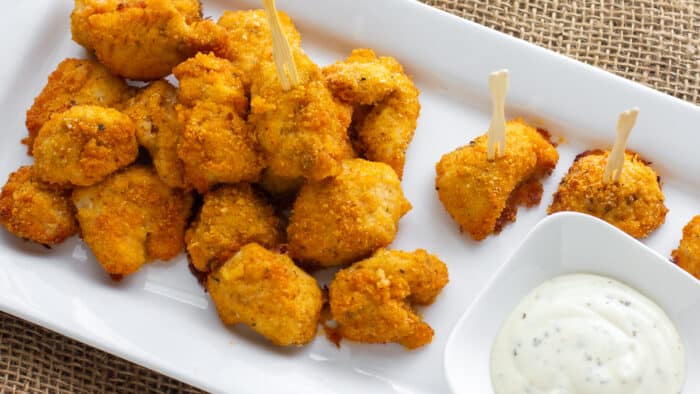 We love chicken nuggets or tenders and this is easily my favourite way to prepare them at home. Instead of being deep fried, these homemade baked buffalo chicken nuggets are cooked in the oven.
The crispy breaded coating and the juicy chicken meat will make you never want store bought frozen pre-packaged nuggets again!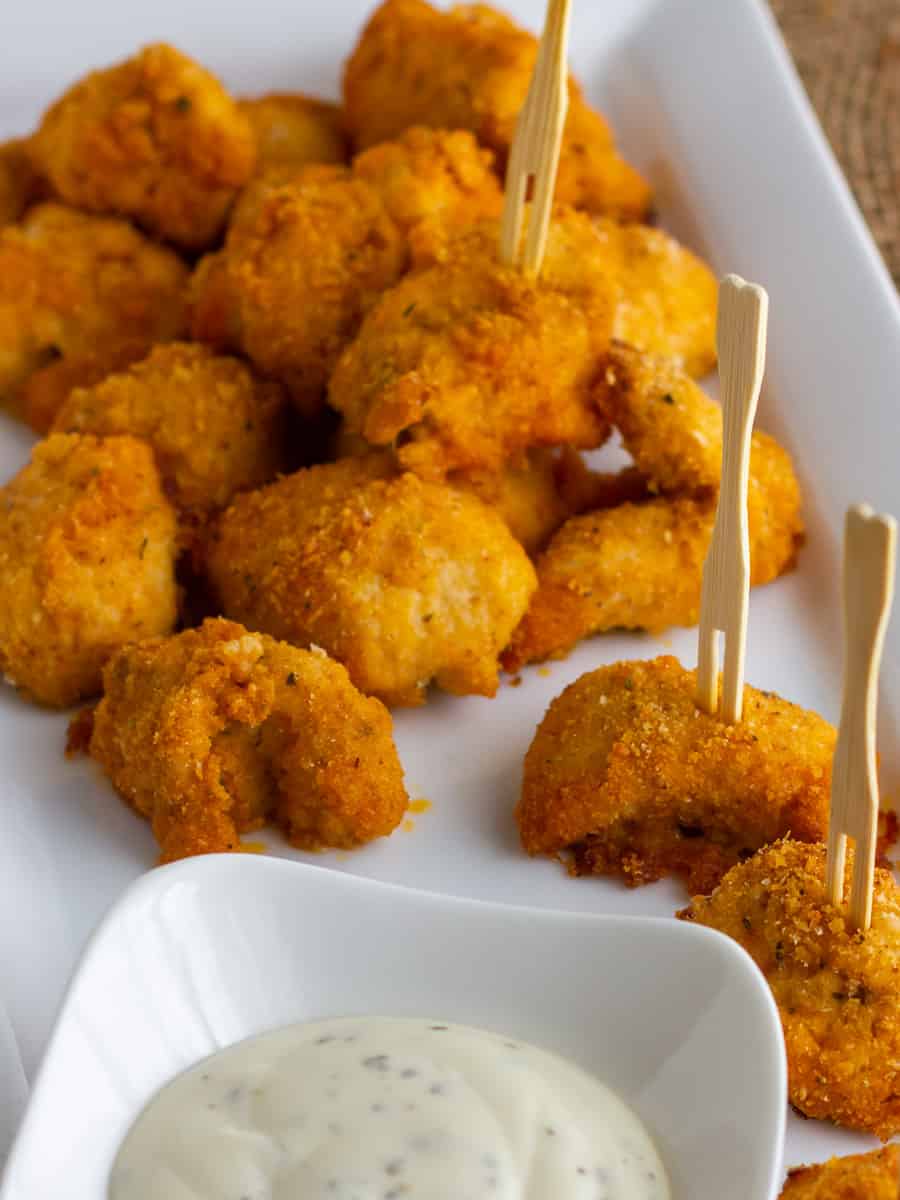 These chicken nuggets are extra special because the meat is coated in buffalo sauce before they are breaded. I have a serious weakness for buffalo sauce, and seem to make it all the time, trying to find ways to add it to new dishes.
This time, it was a keeper! The buffalo flavour works so well in these chicken nuggets.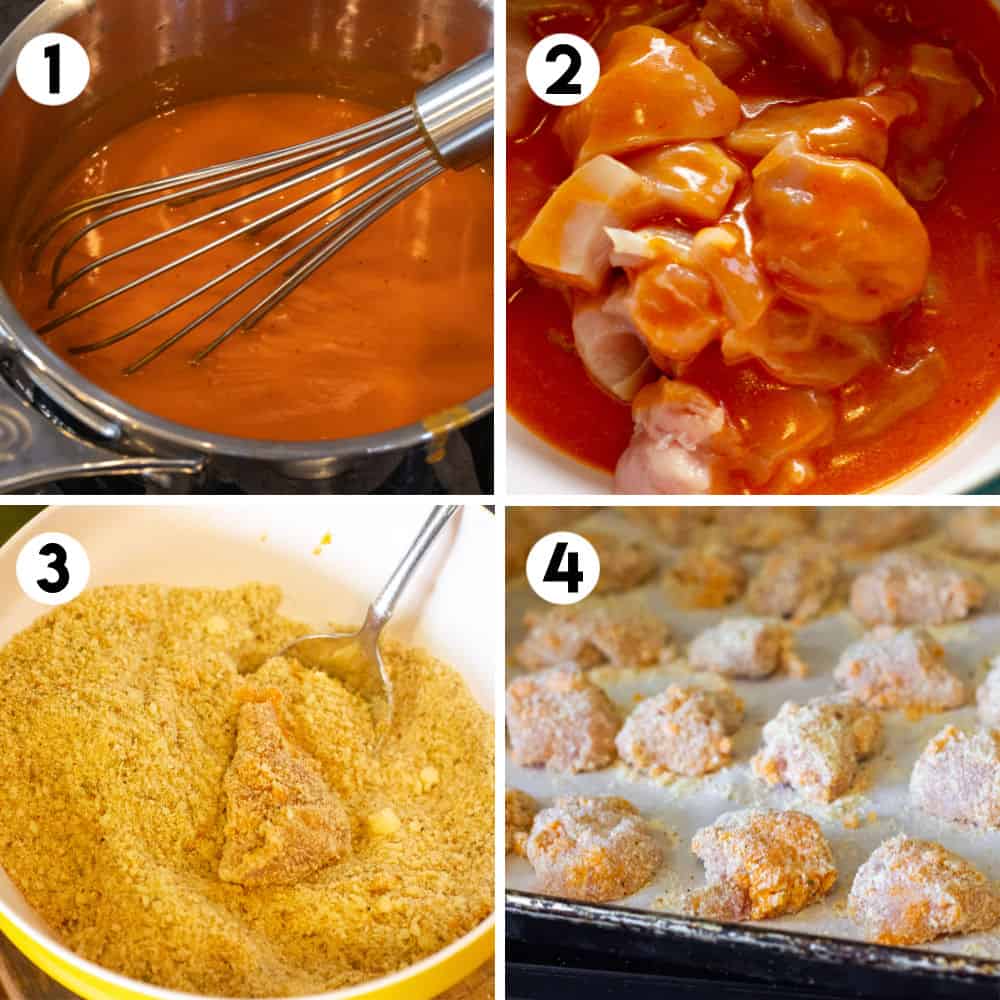 How to Bread the Chicken Pieces?
The first step to making these nuggets is to cut the boneless skinless chicken breasts into evenly sized chunks that are around 1 to 1 1/2 inch pieces.
Make the buffalo sauce by melting the butter in a saucepan over medium heat. Use a whisk to stir in the hot sauce, salt and pepper. Heat for a little bit and then remove from the heat and let cool slightly.
Place the chicken pieces in a bowl and pour in the buffalo sauce. Stir so that the chicken is well coated in the sauce.
Dredge the chicken in a bowl with bread crumbs. You can use plain or seasoned bread crumbs. Both will work great.
Place the breaded chicken nuggets on a baking sheet that is lined with parchment paper. This helps keep the nuggets from sticking and it also makes clean up a breeze!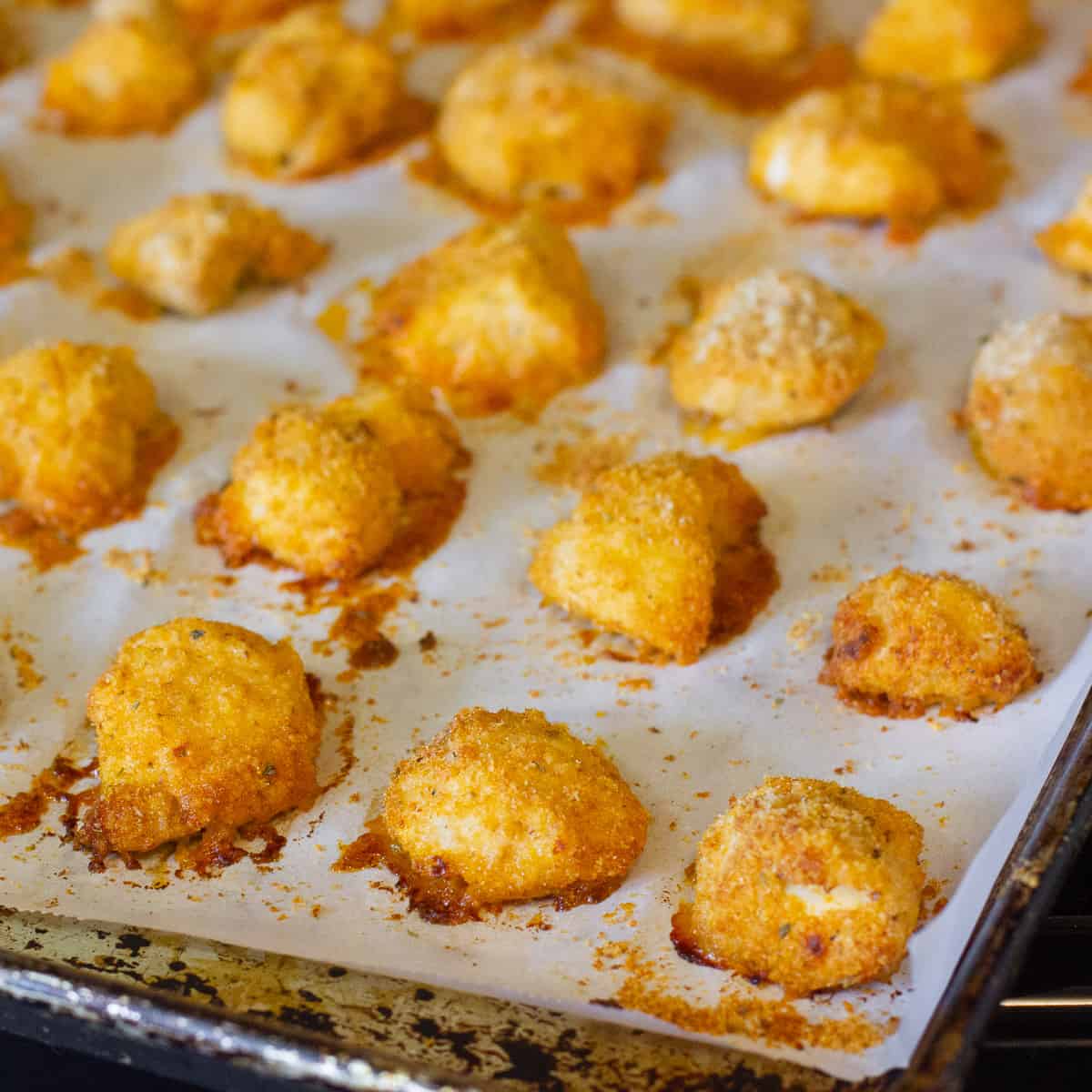 What Temperature and How Long to Bake?
Once all the chunks of chicken have been tossed in the buffalo sauce and coated in the bread crumbs, it is time to bake. Preheat the oven for 400F. This temperature is perfect for creating a crispy breaded coating, while still allowing the chicken not to dry out.
Bake until they are cooked through and the internal temperature of the nuggets reads 165F. I use a digital thermometer and check the middle of the fattest piece of chicken.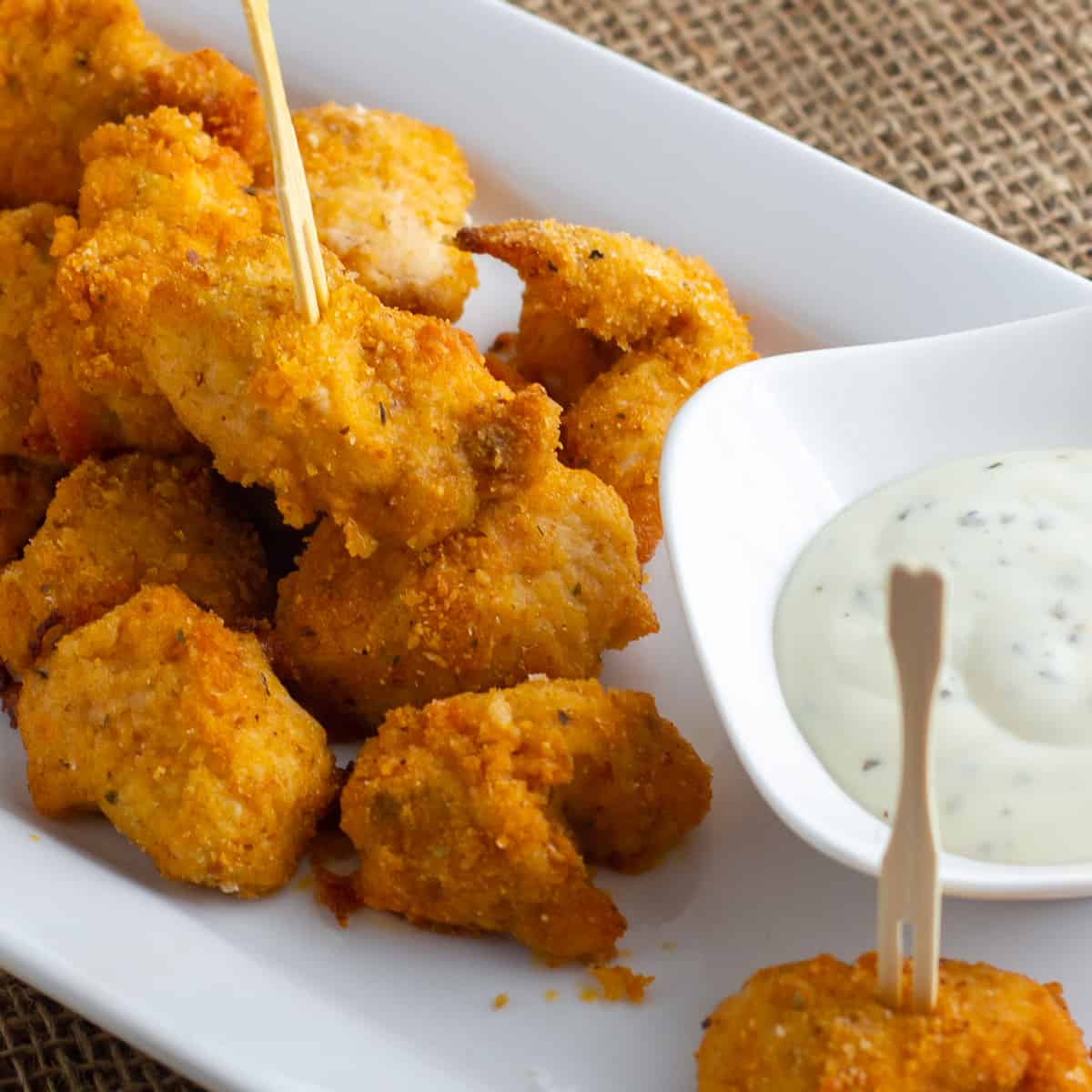 These baked buffalo chicken nuggets are best served with a dip. I have used both this Buttermilk Ranch Dip and Blue Cheese Wing Dip. Both were amazing. You could also simply use store-bought ranch salad dressing.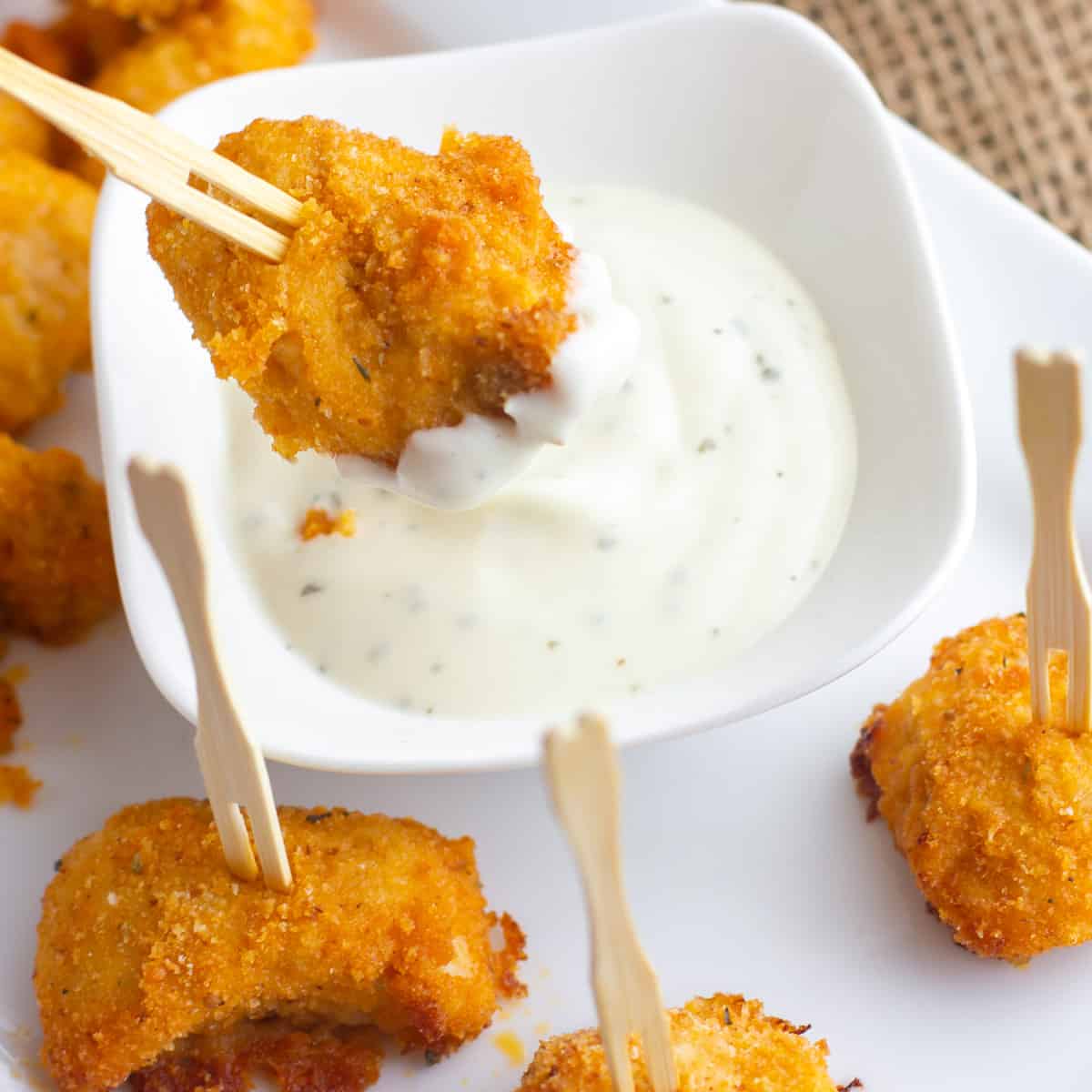 Other Buffalo Flavoured Recipes!
I love the taste of buffalo sauce and over the years I have made many different dishes with that sauce. Chicken out these recipe ideas!
Baked Buffalo Chicken Nuggets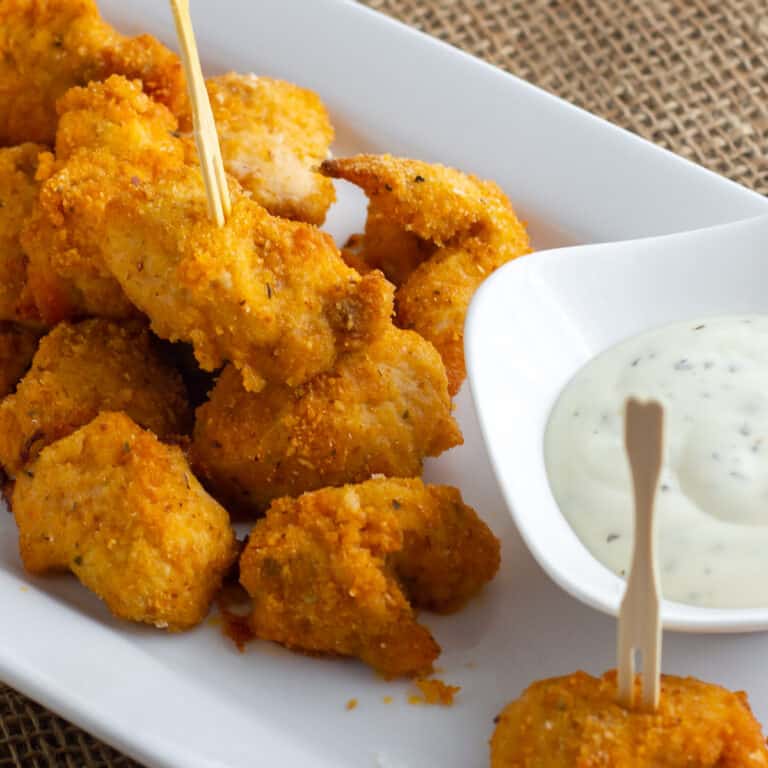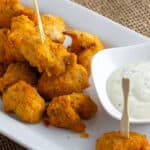 Print
The best recipe for how to make homemade oven baked chicken nuggets made from chicken breast meat, with buffalo seasoning, and ranch dressing for dipping!
Servings: 8
Ingredients
1/2 cup butter
1 cup hot sauce
1 tsp salt
1/2 tsp black pepper
3 cups bread crumbs , plain or seasoned
2 pounds chicken breast , boneless and skinless
Instructions
Preheat oven to 400F.

Melt the butter in a saucepan over medium heat. Whisk in the hot sauce, salt and pepper. Remove from heat and cool slightly.

Cut the chicken breast into chunks that are about 1 to 1 1/2 inches pieces.

In a bowl, pour the bufffalo sauce over the diced chicken.

Dump the bread crumbs in another bowl. Take 1 or 2 seasoned chicken breast pieces and dredge in the bread crumbs to coat on all sides. Place on a baking sheet lined with parchment paper. Do this with the rest of the chicken. Make sure that the chicken nuggets are evenly spaced and not touching each other.

Bake the chicken nuggets until cooked through with an internal temperture of 165F. This should take about 30 minutes.

Serve with a bowl of ranch or blue cheese dressing for dipping.
Nutrition
Per serving:
Calories: 395kcalCarbohydrates: 30gProtein: 30gFat: 17gSaturated Fat: 8gCholesterol: 103mgSodium: 1613mgFiber: 2gSugar: 3g