This simple to make dipping sauce is ideal for dumplings, but also incredible with dim sum, spring rolls, lettuce wraps and so much more.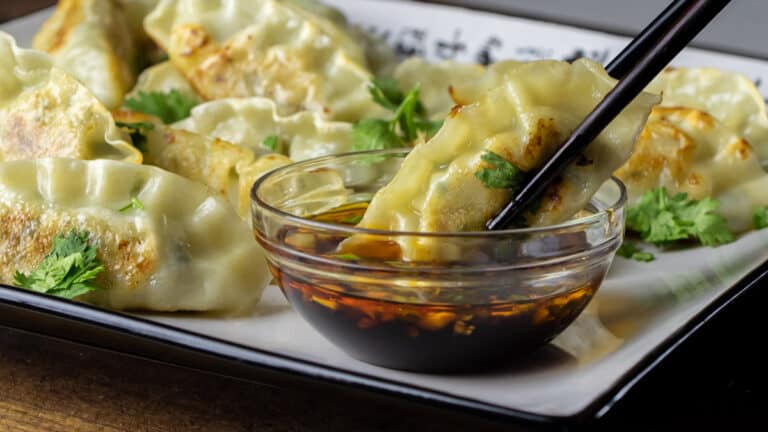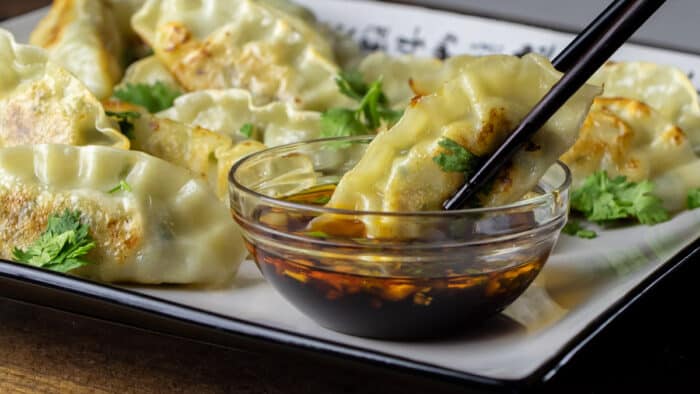 Dumplings need a good dipping sauce. Some enjoy them with a sweet and sour sauce or plum sauce. My favourite kind of sauce is one made with soy sauce and chili oil. This recipe for dumpling dipping sauce is super easy to make and uses ingredients I always have in my kitchen. While I use it for dumplings, this sauce it also so good with dim sum, spring rolls and so much more!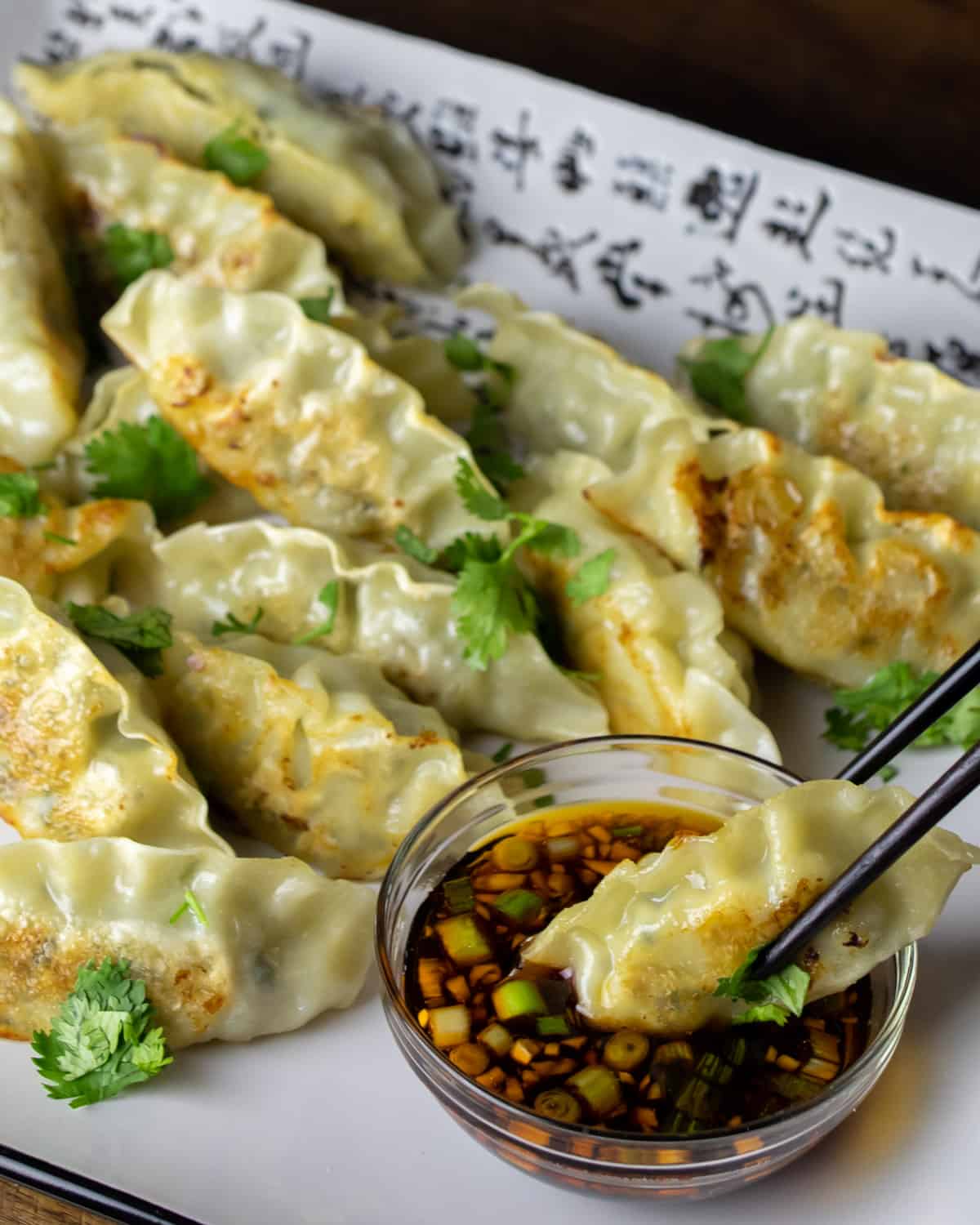 Ingredient Notes
Soy sauce – light or regular soy sauce will work great. Do not use dark soy sauce for this dipping sauce recipe.
Rice vinegar – while regular white vinegar can work for this recipe, using rice vinegar adds to the Asian flavour profile.
Chili oil – this will give the dipping sauce some heat so you could decrease, or increase, based on preference. There is not really any substitute that will match the flavour of this oil.
Sesame oil – this oil adds a nutty taste to the dipping sauce. Be careful though, as this oil has a strong flavour and adding too much could overpower the other ingredients.
Sugar – the sipping sauce is supposed to have a salty, spicy and sweet flavour and the sugar
Garlic – plenty of fresh minced garlic will really add to this sauce!
Green onions – adding some sliced green onions gives this dumpling dip some fresh zing.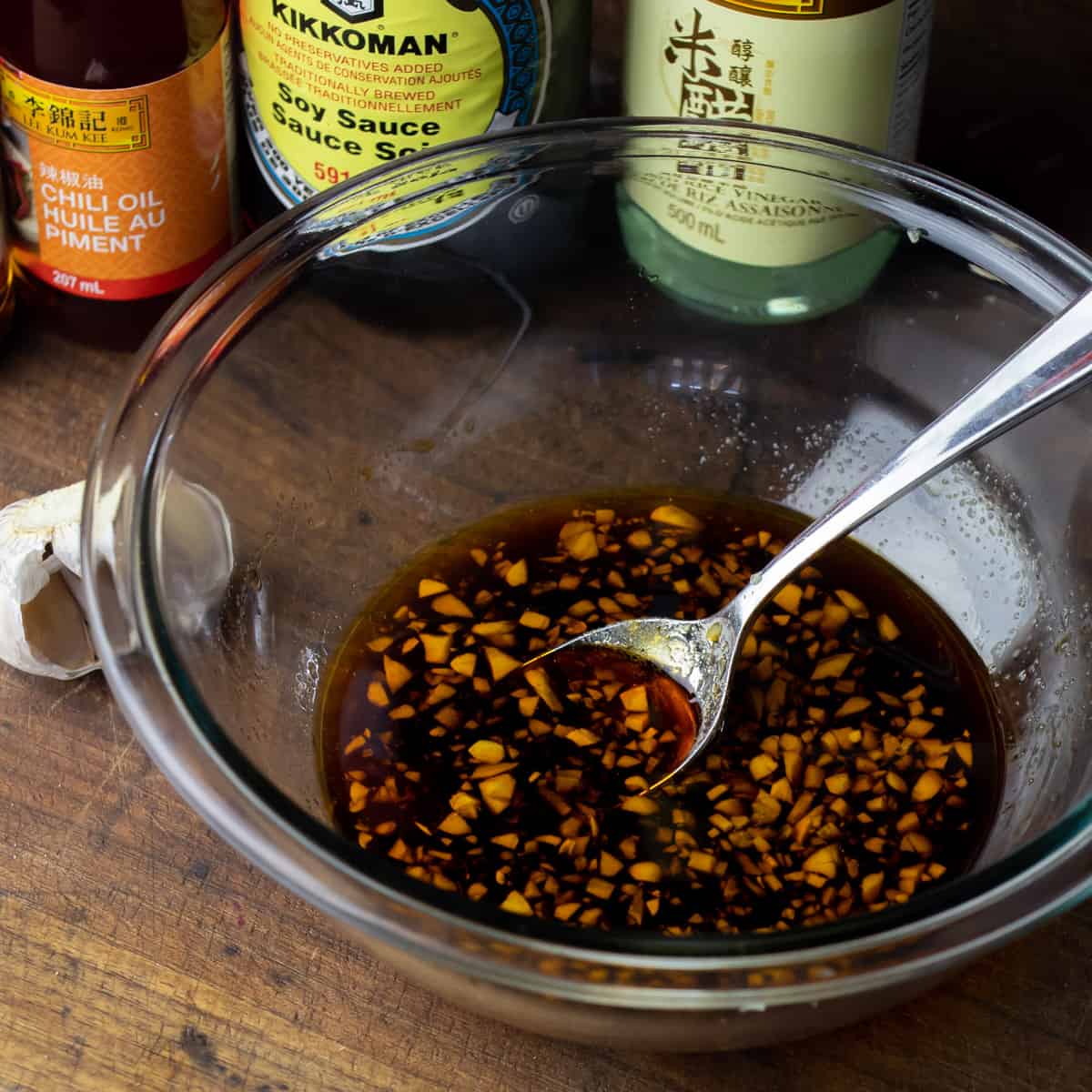 How To Make Dipping Sauce
Making this dipping sauce is super simple. Add everything, except the sliced green onions to a mixing bowl. Gently stir, scraping the bottom of the bowl until all the sugar has been dissolved. Cover with plastic wrap and place in the fridge to marinate for 1 to 2 hours. Mix in the sliced green onions just before serving the dip with cooked dumplings.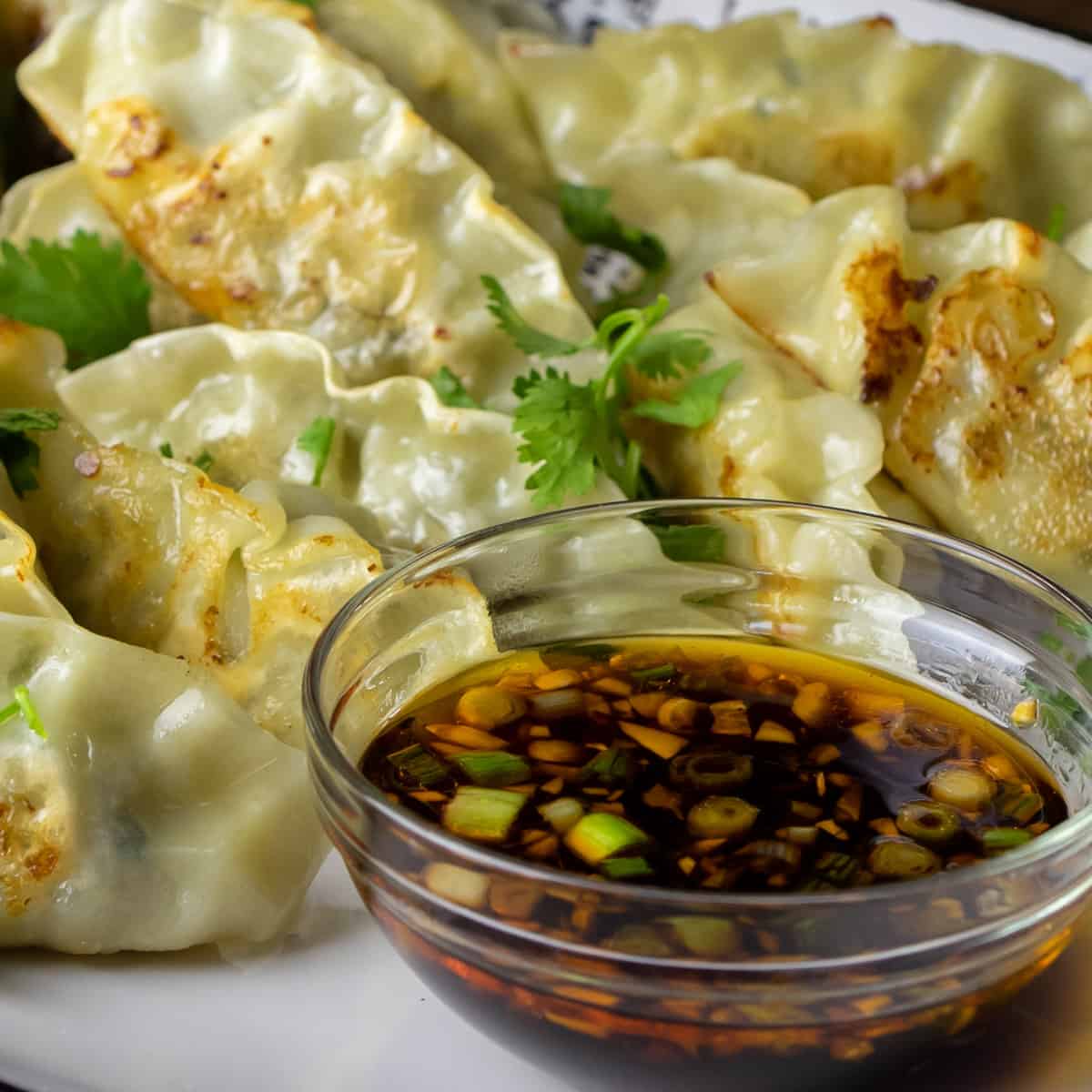 There are so many different types of dumplings and this dipping sauce is versatile and great with everything I have tried. I love Chinese dumplings, as well as Korean dumplings (mandu) and Japanese dumplings (gyoza). Most are made with pork and some have some leek, cabbage and even rice noodles in the filling.
We also serving this dumpling dipping sauce whenever we have a dim sum meal and the sauce is delicious with har gow, siu mai, bao, and so much more!
How To Store Dipping Sauce?
This recipe for dumpling dipping sauce makes a nice sized portion. It is typically more than the amount needed for one meal. If you want to store the sauce, pour it into a container (I like to use a small mason jar) and seal with a lid. Place it in the fridge and it should be good for about a week. Any of the sauce that the dumplings were actually dipped into should be discarded.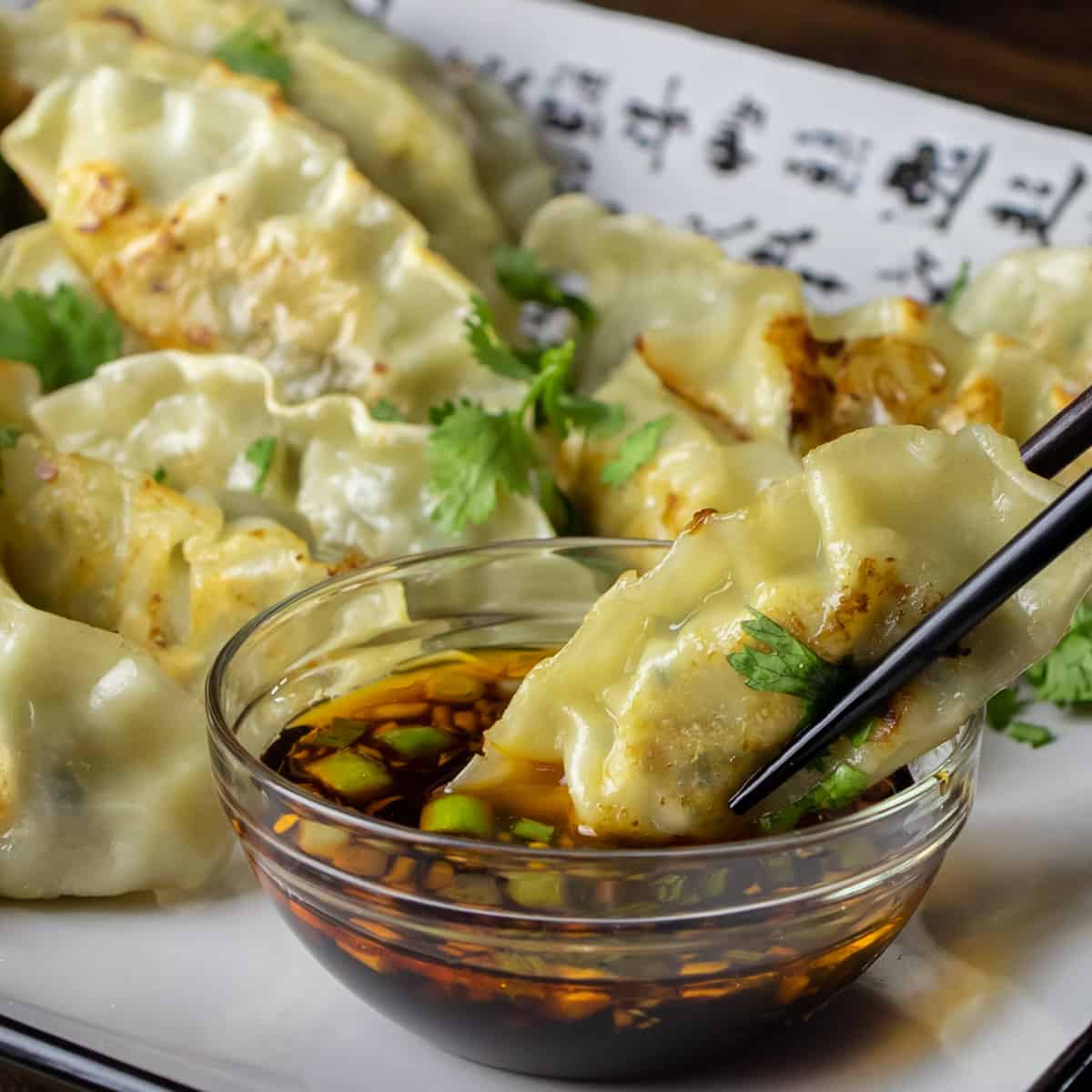 More Great Recipes!
I love Asian cuisine and have a number of different recipes on the website. If you are looking for more ideas, then check out these dishes.
Dumpling Dipping Sauce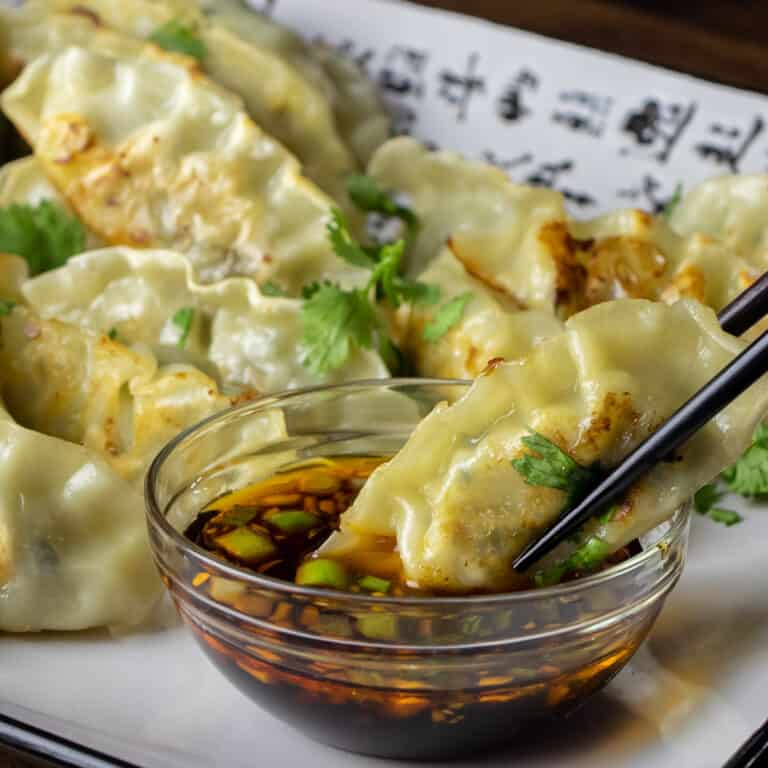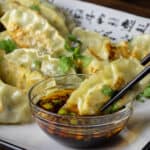 Print
A simple recipe for a dipping sauce that is perfect for dumplings, dim sum, spring rolls and more!
Servings: 12
Ingredients
1/3 cup soy sauce
1/4 cup rice vinegar
1/3 cup white sugar
3 tbsp chili oil
1 1/2 tbsp sesame oil
5 cloves garlic , minced
3 green onions , sliced thinly
Instructions
Mix all ingredients, except the green onions, in a mixing bowl until the sugar is dissolved. Cover with a lid, or plastic wrap, and place in the fridge.

Stir in the sliced green onions, just before serving.

Serve with cooked dumplings, dim sum, spring rolls and more!
Nutrition
Per serving:
Calories: 75kcalCarbohydrates: 7gProtein: 1gFat: 5gSaturated Fat: 1gSodium: 361mgFiber: 0.2gSugar: 6g