Roasted Garlic and Asiago Vegetable Dip
A delicious and creamy dip that is perfect for raw carrots, peppers, zucchini, broccoli and more. This is great for parties, picnics and potlucks!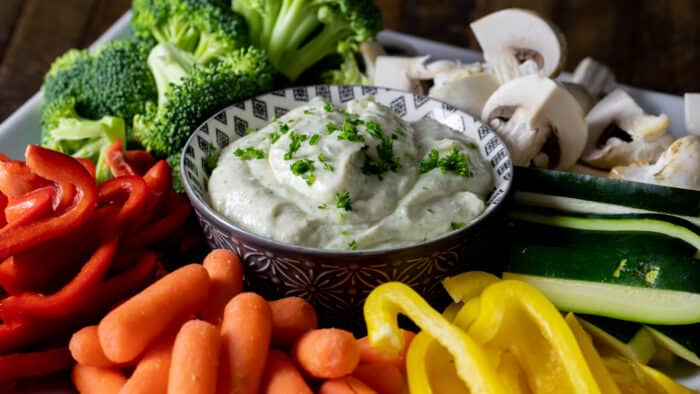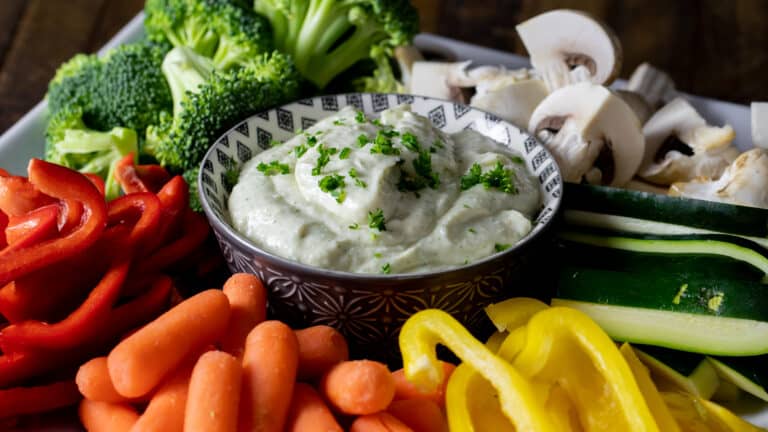 One of my favourite parts of planning a party, is deciding on the menu. Bite sized appetizers and canapés are perfect for gatherings of large groups of people. Every time I plan an event, I like to make sure there is a platter of fresh veggies and dip. A nice dip with chopped up vegetables is healthy and always well received by guests.
Have you ever made vegetable dip from scratch? Sure, you can buy a container of ranch dip at the local supermarket. I have done that many times before. It is simple and, if there are many different dishes you are making for a party, sometimes simple is best. But, this dip is at another level and it is a snap to make. The flavour profile is complex and delicious.
I love roasted garlic and asiago cheese, so blending these with some sour cream and mayonnaise has now made this my favourite homemade vegetable dip.
Tips for vegetables and dip
There are so many different vegetables that are great for a creamy dip. I like to choose a mixture based on colour, taste and texture. Carrots, sweet bell peppers, zucchini, cucumbers, mushrooms, grape tomatoes, broccoli, cauliflower, celery and sugar snap peas, all work great!
Wash and cut up the vegetables ahead of time and keep them in sealed containers in the fridge. I prepare much more than the platter can hold. Then, as people take some, you can top up the vegetables as they get lower in quantity. This way, all the work is done before the party.
Make the dip before and keep it in a sealed container in the fridge. At the time of the party, spoon it into a nice serving bowl. I place the bowl in the middle of a large plate or platter full of chopped up vegetables. It is visually appealing and easy for your guests to partake.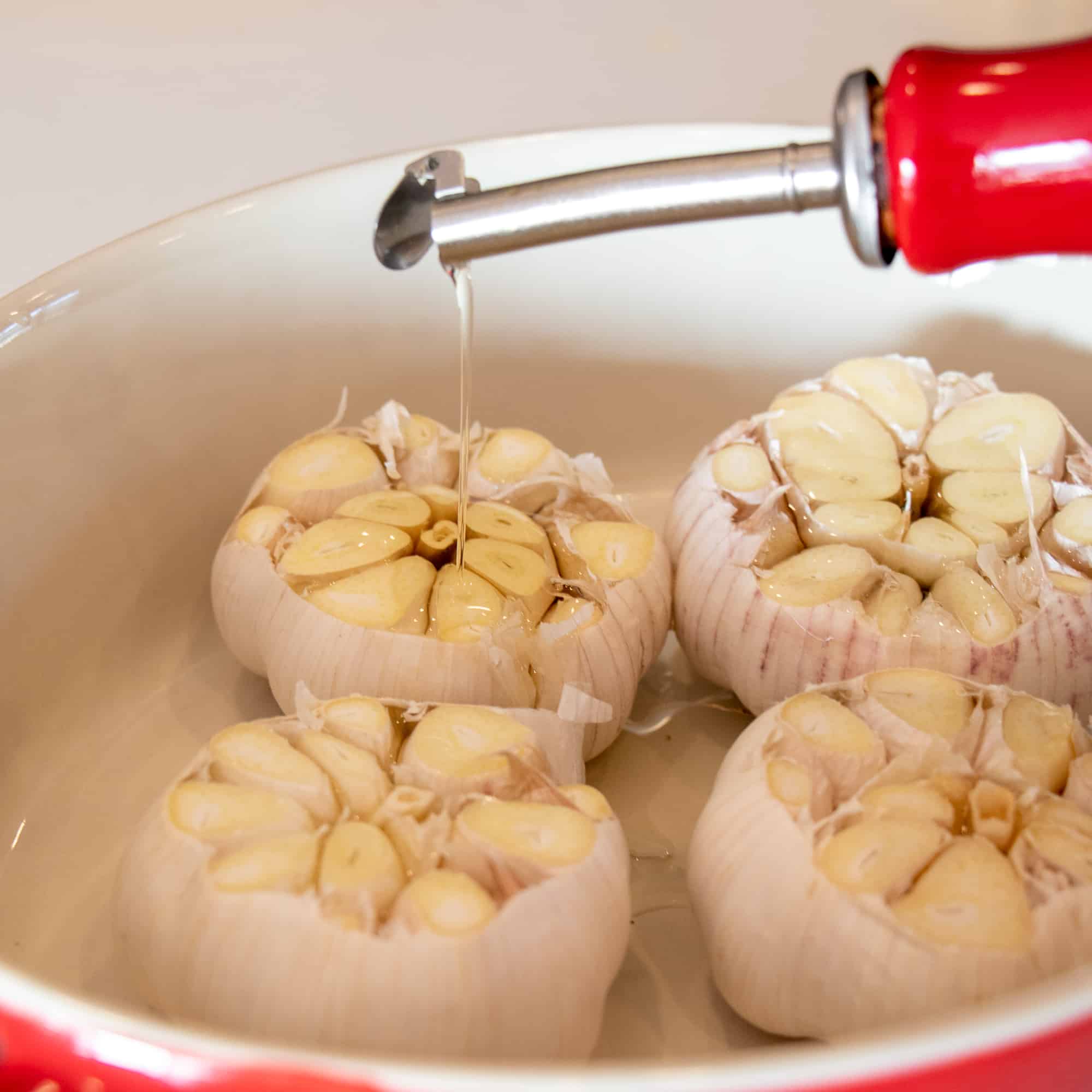 How to Roast a Whole Head of Garlic
Roasting garlic is very easy and you can roast either the whole head or individual peeled garlic cloves. I actually have a post providing instructions for How to Roast Peeled Garlic.
For this recipe, however, I roasted a whole head of garlic. It is incredibly simple. In the photos, you may notice that I roasted 4 garlic heads. Yes, I only use one for this recipe, but figured that since the oven was going, it would be smart to roast a few extra garlic heads for other dishes.
Use a sharp knife to cut the top off the head of garlic. You want to make sure that all the cloves have been revealed and the tips of the heads are cut off. Discard the top part of the garlic head.
Place the garlic head in a ceramic baking dish. Drizzle some oil all over the garlic and put the lid on the baking dish.
Bake in a 375F oven for 50-60 minutes or until the garlic cloves are roasted and caramelized in colour.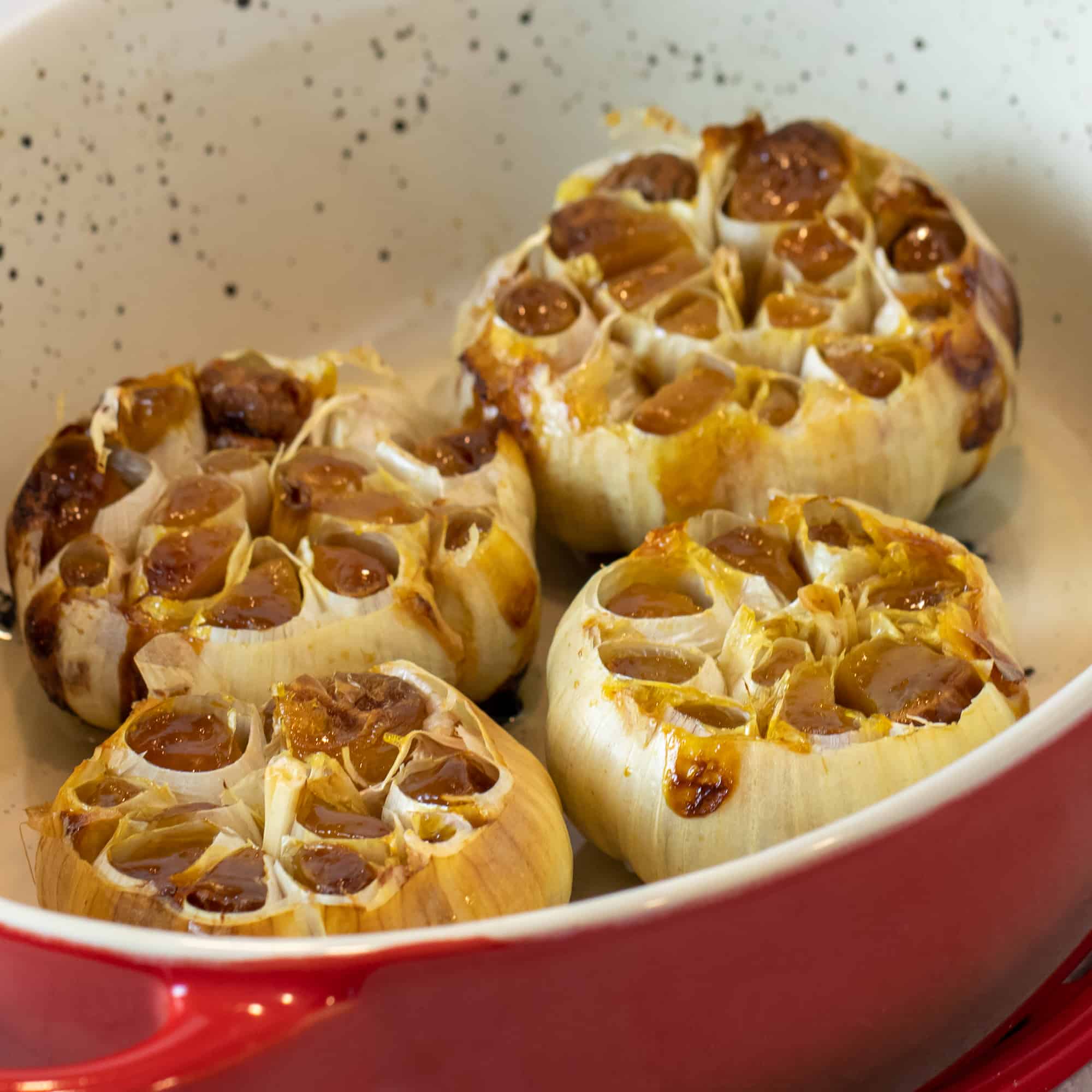 Just look at that garlic in the picture above! That is a beautiful colour and the smell is incredible. The day I made this, we took one head of roasted garlic and squeezed the cloves on a slice of fresh baked bread. It spread so smoothly with a knife and the taste is amazing.
For this dip, make sure that the garlic has cooled to room temperature. Use a fork to pull out all the roasted garlic cloves from one head. Ten cloves should be perfect for this dip.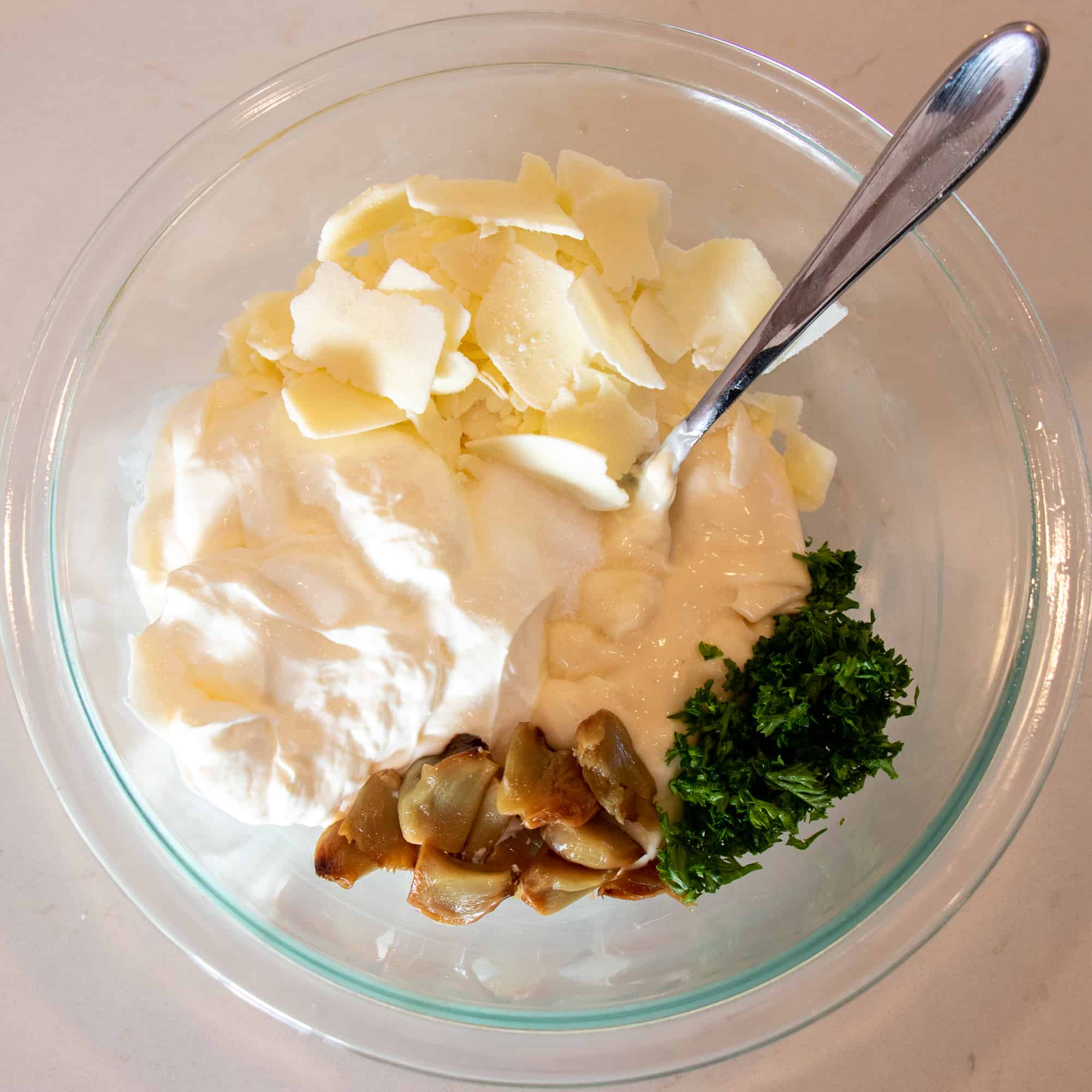 Aside from roasting the garlic, this dip is super easy to make. Even with roasting the garlic, it is not very difficult. It just takes some time while you wait for the garlic in the oven.
The base of this dip is a combination of mayonnaise and sour cream. I use a 50:50 ratio and find that this results in a light and creamy dip. The rest of the ingredients is what gives the dip its awesome flavour. Asiago cheese is similar to parmesan, but not quite as sharp and also a little creamier. It works perfectly for this dip.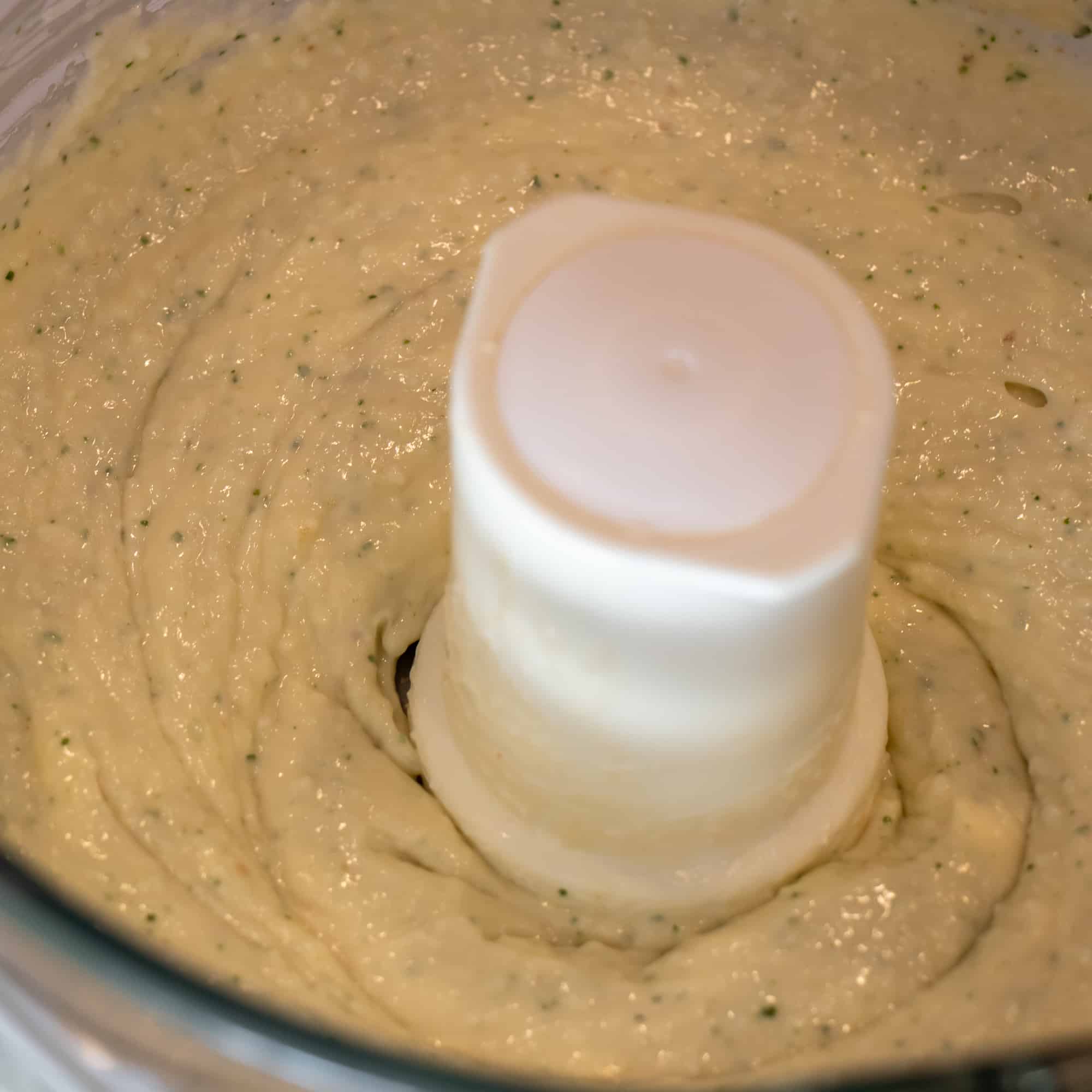 A Food Processor Makes the Job Easy!
Using a food processor is a great way to make a dip that is smooth and creamy but a blender can also work. Simply place all the ingredients in the food processor and pulse until smooth and well blended. I let it run for 45-60 seconds and find that is plenty of time for the garlic and cheese to be blended into the dip.
You want to make sure that the dip is smooth and there are no chunks of roasted garlic. It may be necessary to stop the food processor a couple of time and scrape the sides down with a rubber spatula. Then, just continue pulsing until smooth.
Once the dip is made, it can be spooned into a bowl and placed with a platter of chopped up fresh vegetables. This dip is also great served with crackers, pita chips or tortilla chips.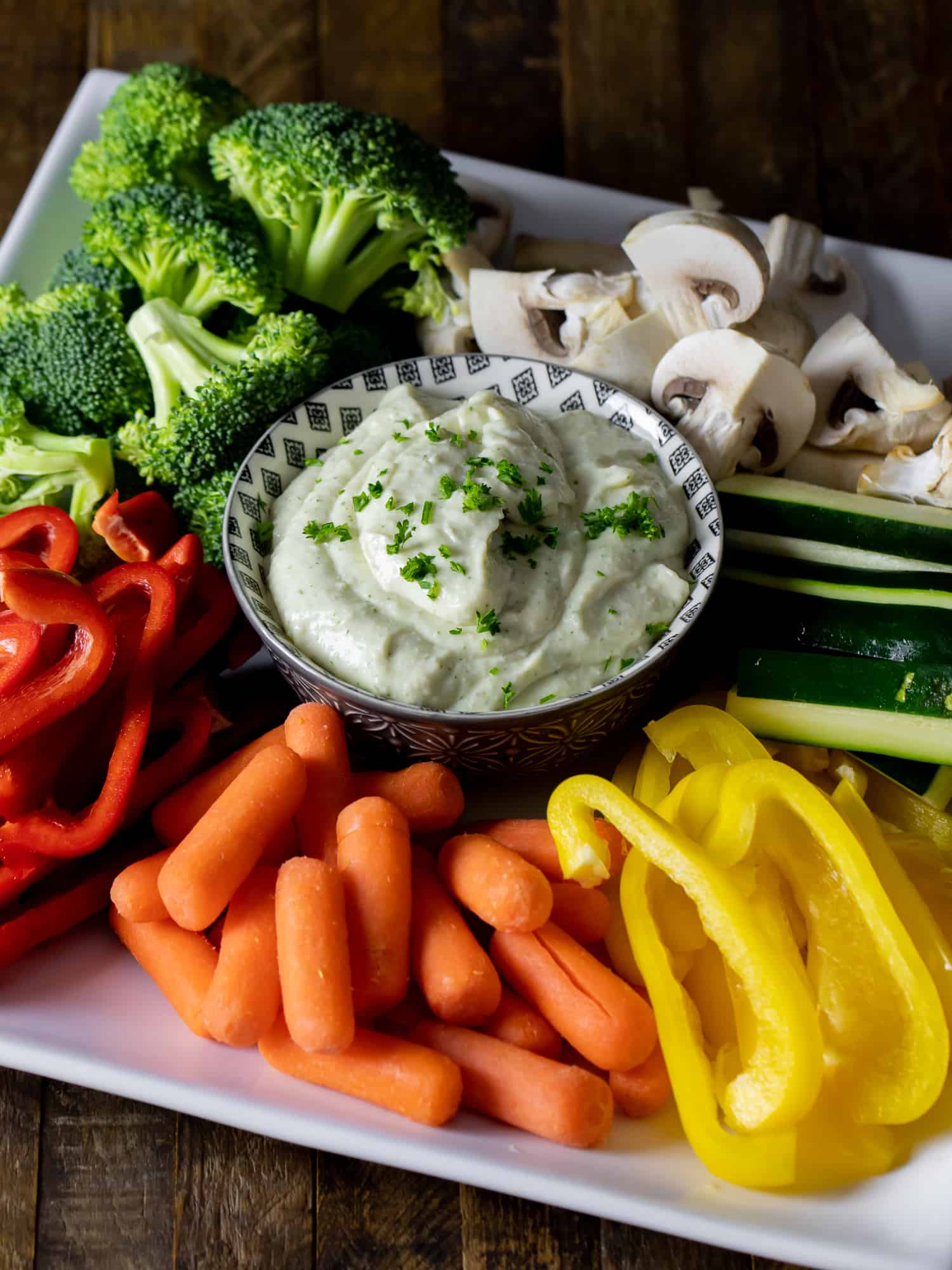 Other Great Dip Recipes
If you are looking for some other dip recipes to make alongside this creamy vegetable dip, then check out these ideas!
Roasted Garlic and Asiago Vegetable Dip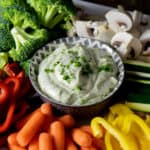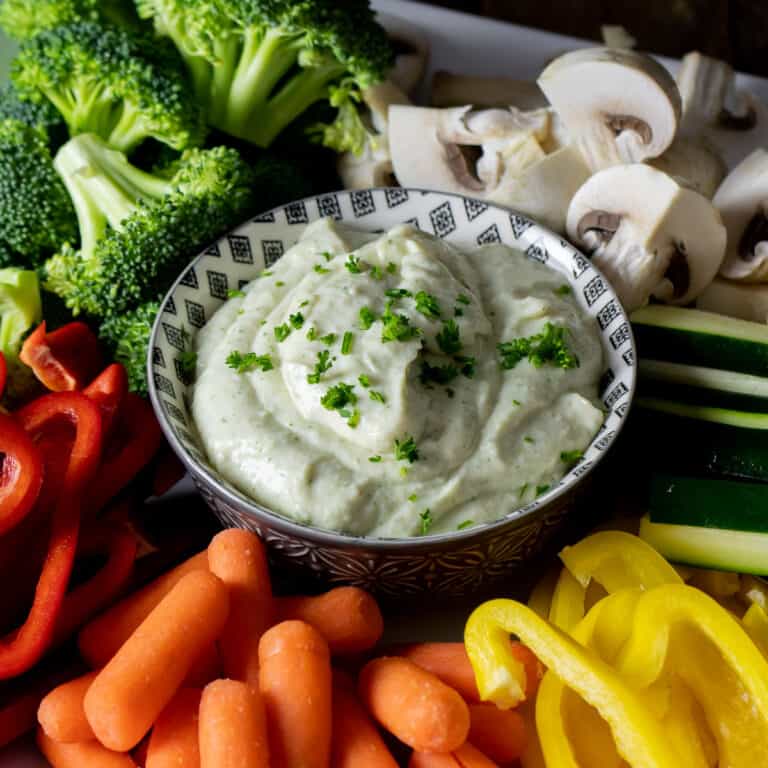 Print
Creamy dip recipe made with mayonnaise, sour cream, asiago cheese, roasted garlic, fresh parsely and spices. Great with fresh vegetables, crackers or chips.
Servings: 10
Ingredients
1 head garlic
1 tbsp oil
1 cup mayonnaise
1 cup sour cream
1/2 cup asiago cheese , flaked or grated
1/4 cup fresh parsley , chopped
1/2 tsp salt
Instructions
Use a knife to cut the top off the head of garlic. Place in a small baking dish and drizzle oil on top of all the visible cloves. Cover with lid and bake in a 375F oven for 50-60 minutes. Garlic cloves should be nicely roasted with a caramelized colour. Remove from the oven and cool to room temperature.

Use a fork to pull the roasted garlic cloves out of the head.

Place the garlic cloves along with the rest of the ingredients into a food processor. Pulse until the dip is smooth and creamy. It may be necessary to stop the processor occasionally to scrape the sides down.

Serve with fresh cut vegetables or crackers.
Nutrition
Per serving:
Calories: 233kcalCarbohydrates: 2gProtein: 3gFat: 24gSaturated Fat: 6gCholesterol: 25mgSodium: 358mgFiber: 1gSugar: 1g