Jalapeño Popper Stuffed Smoked Pork Tenderloin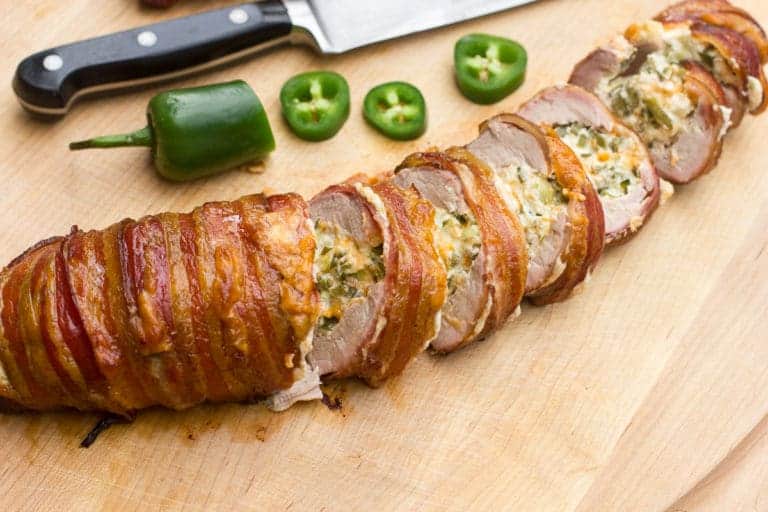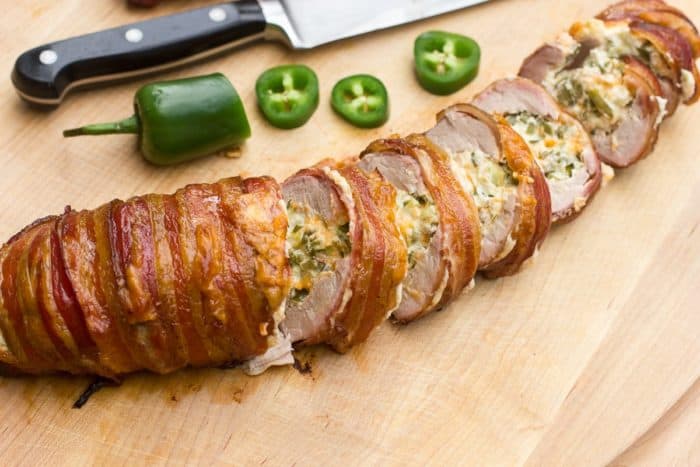 Smoked pork tenderloins are so tasty and they are even better if they are stuffed. Over the years I have stuffed pork tenderloins with so many different types of filling. There are so many possibilities, but this one might just be my favourite.
I love jalapeño poppers and have plenty of recipes for for these little appetizers. They are spicy and cheesy delights which are ideal for game day, parties, or just any time!
I decided to try out stuffing the pork tenderloin with a jalapeño popper mixture and wow – did these come out amazing. The pork tenderloin is full of flavour, and the stuffing is incredible. It is spicy and cheesy and totally matches the jalapeño popper flavour I was hoping for!
If you are interested in some of my jalapeño popper recipes check out these:
Here are a few recipes that use the jalapeño popper idea but to make a totally different type of dish. These are all really tasty!
Cornbread Jalapeno Poppers – Here is a mashup of corn bread and jalapeño poppers. People always love these when I make them.
Cheddar Jalapeno Shortbread Cookies – These savoury shortbread cookies have a cheesy and spicy flavour. Very unique and really addictive. They disappear quickly!
Roasted Jalapeno Popper Dip – This has developed into one of my favourite hot dips. Perfect for crackers, toasted baguette, tortillas and even cut up raw veggies.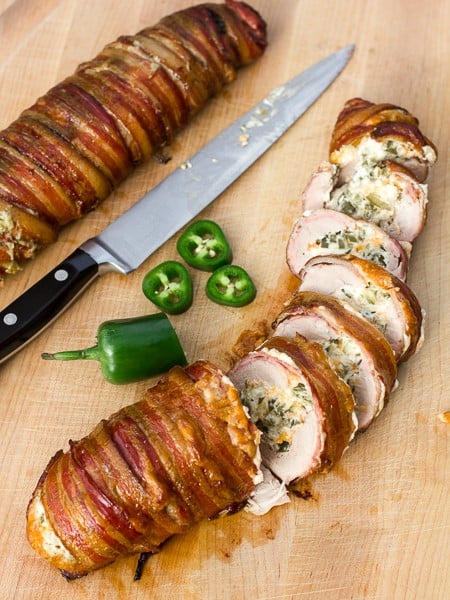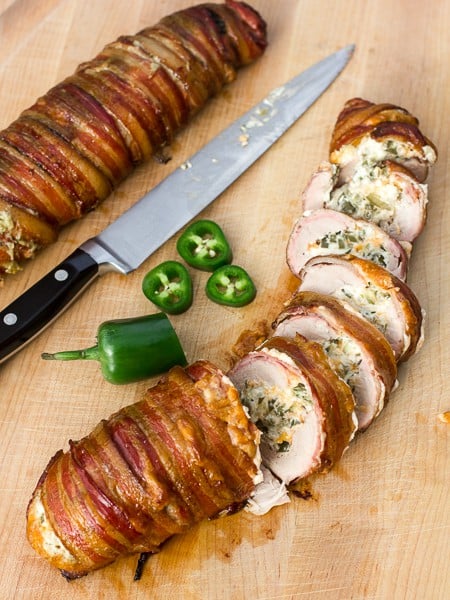 Stuffing the pork tenderloin with cheese and jalapeño peppers works very well. I used 2 jalapeño peppers for each tenderloin which gave plenty of pepper flavour in each bite. The jalapeño peppers were cored and diced quite finely and then mixed with the cream cheese, cheddar cheese and chili powder to make the cheesy stuffing.
Once stuffed, I wrapped the pork tenderloin in bacon. This keeps the cheese from oozing out once melted and it adds an extra awesome flavour!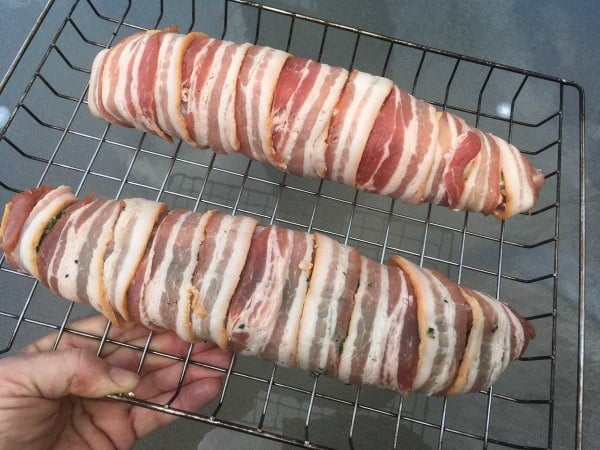 Once prepared, these guys can go into the smoker. For pork, I generally use fruit wood like apple or cherry. I love the sweet smoke that comes from the wood. Hickory, oak, pecan also all work great. Set the smoker for 275F.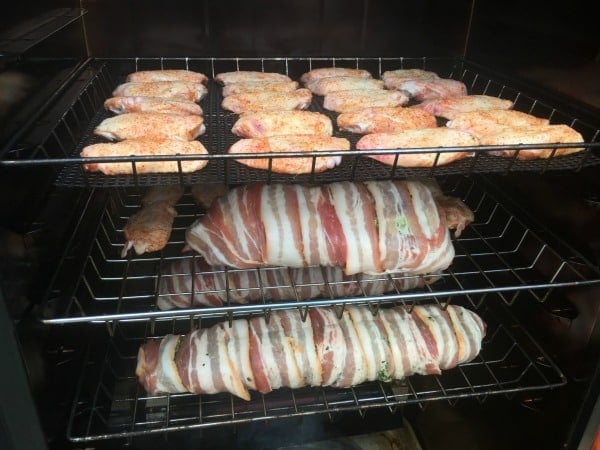 I placed these in the smoker set for 275F and smoked until an internal temperature of 165F where the pork is fully cooked and the bacon rendered. The bacon should be crispy, the cheese melted and gooey and the jalapeño peppers cooked as well.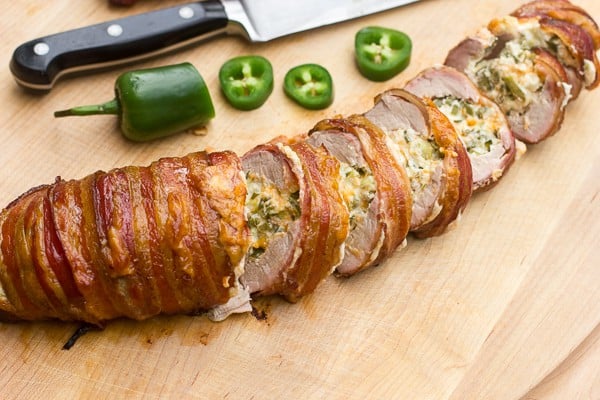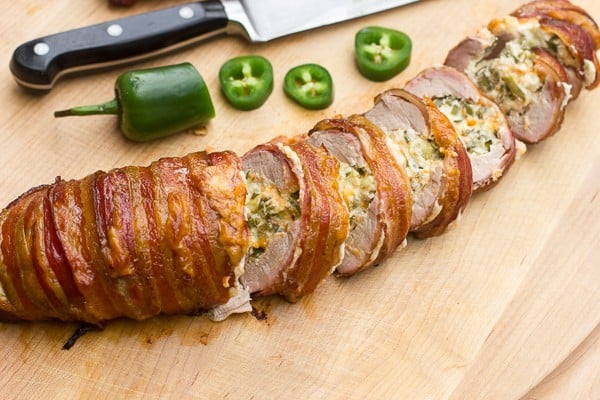 Let the pork tenderloin rest for about 5 minutes before slicing into medallions.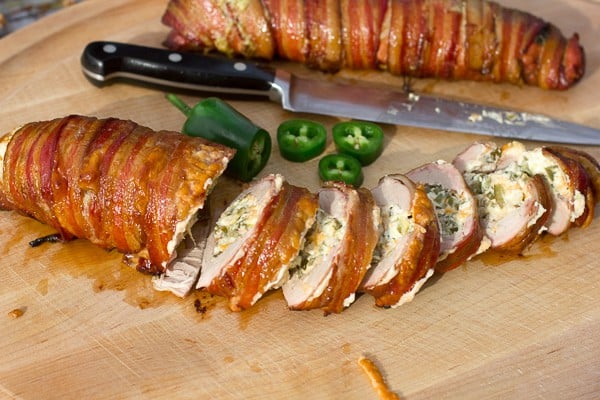 I have a number of different pork tenderloin recipes for the smoker:
Jalapeño Popper Stuffed Smoked Pork Tenderloin Wrapped in Bacon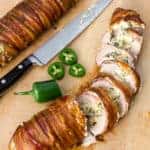 Print
A delicious recipe of bacon wrapped smoked pork tenderloin stuffed with jalapeño peppers and cheese.
Servings: 6 people
Ingredients
2 pork tenderloin
4 jalapeno peppers , cored and minced
8 oz cream cheese
1 cup cheddar cheese , grated
1 tbsp chili powder
10-12 bacon slices
Instructions
Trim the pork tenderloins of any fat and membrane. Holding knife horizontally, slice the pork tenderloin in half being careful not to pierce through the other end.

In a small bowl, mix together the jalapeño pepper with the cream cheese, cheddar cheese and chili powder.

Spread the cheese and jalapeño pepper mixture evenly in the openings of the pork tenderloin. Close up the tenderloins ensuring that the cheese stays inside the pocket of the meat.

Wrap the tenderloins with the bacon and place on smoker rack. It may be wise to have the tenderloins with the cut open side facing up, so that any melted cheese will stay in the pocket and not ooze out.

Set the smoker to 275F using wood of choice (hickory, apple or cherry work great).

Smoke the pork until they reach an internal temperature of 165F and the bacon is rendered and starting to crisp, approximately 2 1/2 - 3 hours.

Remove the pork tenderloins from the smoker and let them rest for about 10 minutes. Slice into 1 inch medallions and serve.
Notes
How to make in an oven It is possible to bake this stuffed pork tenderloin in the oven. Obviously you will not get the same smoky flavour, but the bacon does infuse a nice light smoky taste into the tenderloin. Prepare the recipe up to step 4 and then place the wrapped tenderloin on a baking sheet. Bake in a 400F oven until cooked through and the internal temperature reaches 165F. This should take around 45-60 minutes. Let rest for 10 minutes and then slice into medallions.